Adler, Dankmar
Adler, Dankmar
Adler, Dankmar
, 1844–1900, American architect who, as a partner of Louis
Sullivan
, was an important influence on modern American architecture. Born in Germany, he immigrated to the United States at the age of 10 and settled in Detroit, where he studied architecture and became a civil engineer; he later moved to Chicago and worked as a draftsman and architect. The partnership of Adler & Sullivan was formed in 1881, with the painstaking, technically adept Adler as engineering designer and administrator and Sullivan as planner and artist. The two were partners until 1895. During this period the firm designed such classic structures as the Auditorium Building, Chicago (1889), the Wainwright Building, St. Louis (1890), and the Guaranty Building, Buffalo, N.Y. (1895). Adler also designed a number of Chicago synagogues, e.g., the Isaiah Temple (1899).
Bibliography
See R. Nickel et al., The Complete Architecture of Adler & Sullivan (2010).
The Columbia Electronic Encyclopedia™ Copyright © 2022, Columbia University Press. Licensed from Columbia University Press. All rights reserved.
Adler, Dankmar
(1844–1900)

German-born engineer; moved to Chicago in 1854 and became a partner of Louis H. Sullivan. The Auditorium Building in Chicago, built in 1886, was their first joint commission. In 1889, the firm employed the young Frank Lloyd Wright.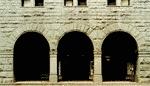 Illustrated Dictionary of Architecture Copyright © 2012, 2002, 1998 by The McGraw-Hill Companies, Inc. All rights reserved
Adler, Dankmar
(1844–1900) architect; born in Langsfeld, Germany. A childhood immigrant to America, he trained in Chicago and Detroit, Mich. Adler was the engineering and structural expert in his partnership with Louis Sullivan (1882–95); famous for their midwestern skyscrapers, the pair completed 120 buildings, including the Guaranty Building, Buffalo, N.Y. (1894–95). Adler was largely responsible for the nation's first registration act for architects being passed in Illinois in 1897.