Adsorber
Also found in:
Dictionary
,
Thesaurus
,
Medical
.
The following article is from The Great Soviet Encyclopedia (1979). It might be outdated or ideologically biased.
Adsorber
a basic industrial apparatus for carrying out adsorption. Batch adsorbers and continuous adsorbers are available.
In a batch adsorber the gaseous mixture or liquid from which various components are to be extracted enters the adsorber (Figure 1) through the top intake pipe, passes through the bed of porous adsorbent, which is supported on a horizontal screen, and is withdrawn from the apparatus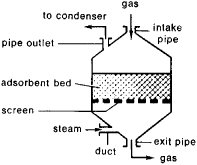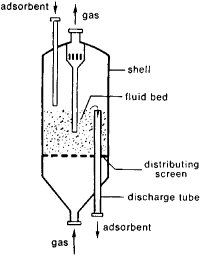 through the bottom exit pipe. Desorption sets in after the adsorbent bed reaches saturation, which is determined by the breakthrough of the gas or liquid being absorbed. The adsorbent bed is heated by steam, which enters through a duct, so that the gases of the extracted materials are forced out of the adsorbent bed through a pipe outlet for condensation and further processing. The adsorbent is then dried by hot gas and the process resumes after the equipment cools off.
Continuous adsorption towers are usually employed in industry; these consist of two or more of the adsorbers described above, which are used alternatively for the adsorption of gas. After the adsorbent bed in the first adsorption tower has been saturated, the stream of gas is switched to the second adsorption tower, so that the first adsorbent bed has time to undergo desorption, drying, and cooling, after which it is used for absorption while the second adsorption tower undergoes desorption, drying, and cooling.
In continuous adsorbers, known as hypersorbers, a granular adsorbent travels down a vertical tower with adsorption occurring in the top of the tower and desorption produced by heating taking place in the bottom of the tower.
In additon to hypersorbers, continuous adsorbers with a fluidized adsorbent, as in Figure 2, are also used. The walls of the single-stage adsorber supports a distributing screen through which the gas moves upward and converts the fine granular adsorbent into a fluid bed. The adsorbent moves continually upward and is removed through the discharge tube for desorption.
REFERENCES
Serpionova, E. N. Promyshlennaia adsorbtsiia gazov i parov. Moscow, 1956.
Romankov, P. G., and V. N. Lepilin. Nepreryvnaia adsorbtsiia parov i gazov. Leningrad, 1968.
The Great Soviet Encyclopedia, 3rd Edition (1970-1979). © 2010 The Gale Group, Inc. All rights reserved.