Aedicula
Also found in:
Wikipedia
.
The following article is from The Great Soviet Encyclopedia (1979). It might be outdated or ideologically biased.
Aedicula
(aedicule, edicule), in classical architecture, a niche framed by columns or pilasters resting on a pedestal and with a pediment above. It contained statues of the gods and was featured in temples, public buildings, and residences. The term is also used in reference to small Greek and ancient Roman shrines.
The Great Soviet Encyclopedia, 3rd Edition (1970-1979). © 2010 The Gale Group, Inc. All rights reserved.
aedicula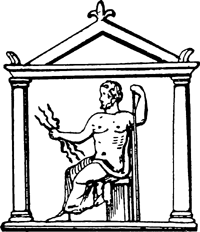 1. A canopied niche flanked by colonnettes intended as a shelter for a statue or as a shrine.
2. A door or window framed by columns or pilasters and crowned with a pediment.
4. A small chapel.
McGraw-Hill Dictionary of Architecture and Construction. Copyright © 2003 by McGraw-Hill Companies, Inc.