Agnus Dei
Also found in:
Dictionary
,
Thesaurus
,
Acronyms
,
Wikipedia
.
Agnus Dei
(ăg`nəs dē`ī, än`yo͝os dā`ē)

[Lat.], the Lamb of God, i.e., Jesus. The lamb of the PassoverPassover,
in Judaism, one of the most important and elaborate of religious festivals. Its celebration begins on the evening of the 14th of Nisan (first month of the religious calendar, corresponding to March–April) and lasts seven days in Israel, eight days in the Diaspora
.....

Click the link for more information.

sacrifice is said to prefigure the crucifixion. Isaiah calls the expected Messiah the Lamb of God, and Jesus is met by John the Baptist with the words, "Behold, the Lamb of God, who takes away the sins of the world." In the MassMass,
religious service of the Roman Catholic Church, which has as its central act the performance of the sacrament of the Eucharist. It is based on the ancient Latin liturgy of the city of Rome, now used in most, but not all, Roman Catholic churches. The term Mass [Lat.
.....

Click the link for more information.

the Agnus Dei, or Lamb of God, is said or sung while the communion bread is being broken for distribution. It is usually the final movement of choral masses. In Anglican worship it is sung during communion. In iconography a lamb with halo and cross is called an Agnus Dei.

The Columbia Electronic Encyclopedia™ Copyright © 2013, Columbia University Press. Licensed from Columbia University Press. All rights reserved.

www.cc.columbia.edu/cu/cup/
agnus dei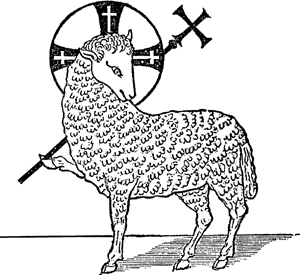 Any image or representation of a lamb as emblematic of Christ, esp. such a
McGraw-Hill Dictionary of Architecture and Construction. Copyright © 2003 by McGraw-Hill Companies, Inc.
Agnus Dei
lamb of god. [Christian Tradition: Brewer Dictionary, 17]
Allusions—Cultural, Literary, Biblical, and Historical: A Thematic Dictionary. Copyright 2008 The Gale Group, Inc. All rights reserved.