Altair
Also found in:
Dictionary
,
Thesaurus
,
Medical
,
Financial
,
Acronyms
,
Wikipedia
.
Altair
Altair
(ăltäˈĭr)
, brightest star in the constellation
Aquila
(Eagle); Bayer designation α Aquilae; 1992 position R.A. 19
h
50.5
m
, Dec. +8°51′. Its apparent
magnitude
is 0.74, making it one of the 20 brightest stars in the sky, and it is of
spectral class
A7 IV,V. Altair is one of the nearest bright stars, its distance being 16.8 light-years.
The Columbia Electronic Encyclopedia™ Copyright © 2022, Columbia University Press. Licensed from Columbia University Press. All rights reserved.
Altair
(al-tair ) (

α Aql

) A nearby conspicuous white star that is the brightest one in the constellation Aquila. mv : 0.77; Mv : 2.3; spectral type: A7 Vn; distance: 5.0 pc.

Collins Dictionary of Astronomy © Market House Books Ltd, 2006
Altair
[al′tīr or ′al'ter]

(astronomy)

A star that is 16.5 light-years from the sun; spectral type A7IV-V. Also known as α Aquilae.

McGraw-Hill Dictionary of Scientific & Technical Terms, 6E, Copyright © 2003 by The McGraw-Hill Companies, Inc.
Altair
A microcomputer kit introduced in late 1974 from Micro Instrumentation and Telemetry Systems (MITS). It sold for $439 and used an 8080 microprocessor. In 1975, it was packaged with the Microsoft MBASIC interpreter written by Paul Allen and Bill Gates. Although computer kits were advertised earlier by others, an estimated 10,000 Altairs were sold, making it the first commercially successful personal computer. The machine was also available fully assembled for $621. See SCELBI 8H.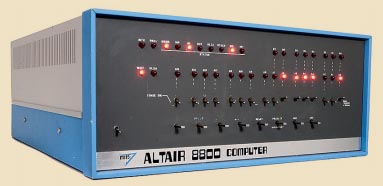 Altair 8800 Computer
The first successful microcomputer and the first commercial computer that came with a Microsoft product. (Image courtesy of AUCTION TEAM BREKER, Cologne, Germany, (c) 2013, www.breker.com)
Copyright © 1981-2019 by The Computer Language Company Inc. All Rights reserved. THIS DEFINITION IS FOR PERSONAL USE ONLY. All other reproduction is strictly prohibited without permission from the publisher.