siding
(redirected from Aluminum siding)
Also found in:
Dictionary
,
Thesaurus
,
Financial
.
siding
1. a short stretch of railway track connected to a main line, used for storing rolling stock or to enable trains on the same line to pass
2. a short railway line giving access to the main line for freight from a factory, mine, quarry, etc.
Collins Discovery Encyclopedia, 1st edition © HarperCollins Publishers 2005
Siding
Long-lasting, low-maintenance exterior finish products reduce replacement frequency, which means cost savings, reduced landfill impact, and fewer resources and time devoted to maintenance and replacement. Fiber-cement siding is highly durable; it doesn't split, holds paint longer, and is more moisture-resistant than typical hardwood siding. Other green building siding options include recycled-content hard-board, natural or synthetic stucco, locally produced brick, and natural or faux stone.
Illustrated Dictionary of Architecture Copyright © 2012, 2002, 1998 by The McGraw-Hill Companies, Inc. All rights reserved
siding
[

′sīd·iŋ

]

(civil engineering)

A short railroad track connected to the main track at one or more points and used to move railroad cars in order to free traffic on the main line or for temporary storage of cars. Also known as sidetrack.

(materials)

Any wall cladding, except masonry or brick.

McGraw-Hill Dictionary of Scientific & Technical Terms, 6E, Copyright © 2003 by The McGraw-Hill Companies, Inc.
siding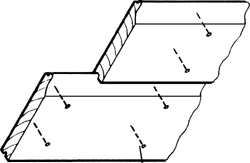 A finish covering on the exterior walls of a building in the form of a series of horizontal strips or boards; made of such
cladding
materials as wood or aluminum. The strips are usually applied horizontally with an overlap to provide resistance against the penetration of water. Also see
bevel siding, bungalow siding, clapboard, colonial siding, drop siding, flush siding, German siding, lap siding, matched siding, novelty siding, rabbeted siding, rustic siding, shingles, shiplap siding, vertical siding, weather slating.
McGraw-Hill Dictionary of Architecture and Construction. Copyright © 2003 by McGraw-Hill Companies, Inc.