Amazon Echo
Also found in:
Dictionary
,
Thesaurus
,
Medical
,
Legal
,
Financial
,
Wikipedia
.
Amazon Echo
A device from Amazon.com that combines a wireless speaker, music streamer and Alexa virtual assistant in one unit. Introduced in 2015, the Echo speaker connects to a music source via Bluetooth and also streams music from the user's local music collection, Amazon's libraries, iHeartRadio and TuneIn. The second-generation Echo Plus adds a built-in hub for smart home devices such as lights and door locks. Several Alexa-based products were subsequently introduced (see below).

"Alexa - What's the Capital of Maine?"
Always connected via Wi-Fi, when any of the Echo's seven microphones hears the word "Alexa" from across the room, it "wakes up," emits an audible signal and waits for a verbal question.

The Echo App
Available for desktop and mobile devices, the Echo app guides the user through device setup and logs all questions and answers. The app also manages a to-do list, timer, alarms and music sources, and it can be used to ask a question. See Alexa Voice Service, virtual assistant, Bluetooth speaker and Amazon Dash.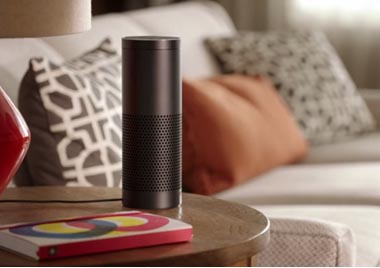 Echo Virtual Assistant for the Home
The Echo's "far-field" voice recognition lets people verbally command the unit from a distance. This was the first Echo in 2015, which was superseded by a similar-looking Echo Plus in 2017 with a built-in smart hub. The regular Echo then became shorter. (Images courtesy of Amazon.com.)
Echo Dot - 2016
The Echo Dot has one small speaker and must be hooked up to a sound system for room-filling music. The Dot does not have the multiple microphones like the full-size Echo and cannot respond to the Alexa "wake-up" word. A button must be pressed. (Image courtesy of Amazon.com.)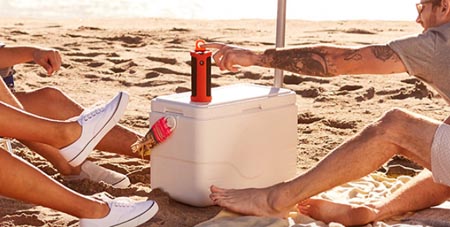 Amazon Tap - 2016
A little smaller than the Echo, the Tap is primarily for music. Rechargeable in its cradle, the Tap is meant to travel and connect to a mobile Wi-Fi hotspot. (Image courtesy of Amazon.com.)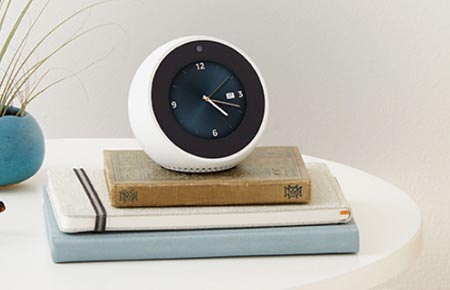 Echo Spot - 2017
With capabilities similar to the big Echo, the Spot can serve as an alarm clock or kitchen timer as well as a video calling machine with other Amazon users. It can also display the output of a security camera. (Image courtesy of Amazon.com.)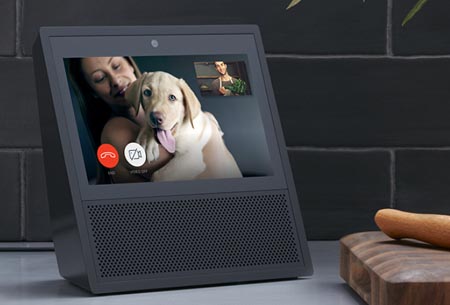 Echo Show - 2017
The Show is a stand-up Echo tablet with good speakers. Not only can the Show offer video content as well as video calling to other Show users, it can display security camera output. (Image courtesy of Amazon.com.)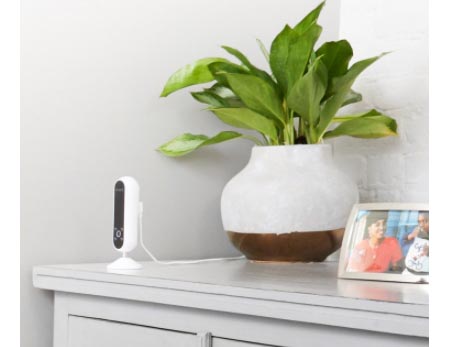 Echo Look - 2017 - How Do I Look?
Ask Alexa to take a picture and see yourself on your smartphone. Submit two photos, and Style Check will tell you which outfit looks best. The Look will also play music with its built-in speaker. (Image courtesy of Amazon.com.)