pulpit
(redirected from Ambo (in the Russian and Greek Church))
Also found in:
Dictionary
,
Thesaurus
.
pulpit
pulpit, in churches, elevated platform with low enclosing sides, used for preaching the sermon. In the earliest churches the episcopal throne served this purpose. The boxlike elevated ambo of early medieval times, the apparent forerunner of the pulpit, was situated in the choir and served for reading and singing. In basilical churches there was usually an ambo at both the north and south sides of the choir. At an unknown date the north-side ambo came to be used for sermons, its location being a matter of favorable acoustics rather than ritual. The modern pulpit is ordinarily in the nave against the first pier outside the chancel and at the epistle side. Pulpits early became objects of fine craftsmanship. They were generally polygonal, supported by a single pillar or a group of columns or by brackets extending from a wall. In Italy there are many handsome examples, enriched with sculpture and mosaics. The hexagonal carved marble pulpit (1259) in the baptistery at Pisa, by the sculptor Nicola Pisano, displayed the first intimations of the Renaissance. The cathedral at Prato has the celebrated round outdoor pulpit sculptured by Donatello, who also designed in his last years two magnificent rectangular pulpits for the Church of San Lorenzo, Florence. With the Reformation the pulpit became the most conspicuous and important accessory in the Protestant church. Modern pulpits are, as a rule, of simple design.
The Columbia Electronic Encyclopedia™ Copyright © 2022, Columbia University Press. Licensed from Columbia University Press. All rights reserved.
pulpit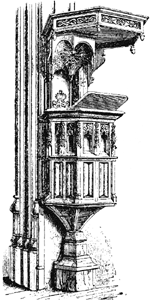 An elevated enclosed stand in a church in which the preacher stands.
McGraw-Hill Dictionary of Architecture and Construction. Copyright © 2003 by McGraw-Hill Companies, Inc.
pulpit
1. a raised platform, usually surrounded by a barrier, set up in churches as the appointed place for preaching, leading in prayer, etc.
2.
a. the preaching of the Christian message
b. the clergy or their message and influence
Collins Discovery Encyclopedia, 1st edition © HarperCollins Publishers 2005