Ambon
Also found in:
Dictionary
,
Thesaurus
,
Medical
,
Wikipedia
.
Ambon
(äm`bōn)

, island, c.300 sq mi (775 sq km), E Indonesia, one of the MoluccasMoluccas
or Spice Islands,
Bahasa Indonesia Maluku, Du. Molukken, island group and prov. (1990 pop. 1,856,075), c.32,300 sq mi (83,660 sq km), E Indonesia, between Sulawesi and New Guinea. The capital of the province is Ambon, on Ambon island.
.....

Click the link for more information.

, in the Banda Sea. It is mountainous, well watered, and fertile. Corn and sago are produced, and hunting and fishing supplement the diet. Nutmeg and cloves, once grown in abundance, are produced in limited quantities, and copra is exported. The chief town and seaport, also called Ambon (1990 pop. 275,888), is capital of Maluku prov. It is the seat of the Univ. of Maluku and a private college, and it has an airport. The island and town are also called Amboyna or Amboina.

The island was visited (1512) by the Portuguese, who made it a religious and military headquarters. It was captured by the Dutch in 1605. An English outpost there was destroyed (1623) by the Dutch in what is called the Ambon massacre. Ambon was temporarily under British rule from 1796 to 1802 and again from 1810 to 1814. The town was the site of a major Dutch naval base captured (1942) by the Japanese in World War II, and it was the scene (1950) of a revolt against the Indonesian government during the short-lived South Moluccan Republic. After the end of Dutch rule, it was a source of major immigration to the Netherlands. As a result of continued violence between rebels and government troops, many Ambonese emigrated to the Netherlands. The island has been the scene of Muslim-Christian violence in recent years.

The Columbia Electronic Encyclopedia™ Copyright © 2013, Columbia University Press. Licensed from Columbia University Press. All rights reserved.

www.cc.columbia.edu/cu/cup/
ambo, ambon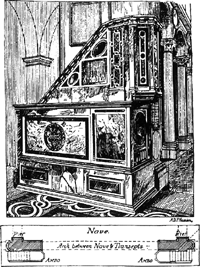 1. In early Christian churches, a pulpit for reading or chanting the Gospels or the Epistles.
2. In contemporary Balkan or Greek churches, a large pulpit or reading desk.
McGraw-Hill Dictionary of Architecture and Construction. Copyright © 2003 by McGraw-Hill Companies, Inc.