pineapple
(redirected from Ananas sativus)
Also found in:
Dictionary
,
Thesaurus
,
Medical
,
Financial
.
pineapple,
common name for one member of and for the Bromeliaceae, a family of chiefly epiphytic herbs and small shrubs native to the American tropics and subtropics. The spiny leaves of various species of the genus Ananas yield a hard fiber called gravata in South America and piña, or pineapple cloth, in the Philippines. A. sativa is the cultivated pineapple. The fruit, whose spiny skin is yellowish brown when ripe, is sweet and juicy; it is topped by a distinctive rosette of green leaves. It is grown throughout warmer regions. Thailand, the Philippines, and Brazil are the largest producers of canned pineapple. A compound derived from pineapple, branelain, is used as an anti-inflammatory. Species of Ananas, Tillsandia, and other genera are sometimes cultivated as ornamentals. Spanish mossSpanish moss,
fibrous grayish-green epiphyte (Tillandsia usneoides) that hangs on trees of tropical America and the Southern states, also called Florida, southern, or long moss. It is not a true moss but a member of the pineapple family, and has inconspicuous flowers.
.....

Click the link for more information.

(T. usenoides) is a member of this family. Many epiphytic bromeliads, growing in moist tropical American forests, have become highly modified for retaining water between rainfalls. The pineapple family is classified in the division MagnoliophytaMagnoliophyta
, division of the plant kingdom consisting of those organisms commonly called the flowering plants, or angiosperms. The angiosperms have leaves, stems, and roots, and vascular, or conducting, tissue (xylem and phloem).
.....

Click the link for more information.

, class Liliopsida, order Bromeliales.

The Columbia Electronic Encyclopedia™ Copyright © 2013, Columbia University Press. Licensed from Columbia University Press. All rights reserved.

www.cc.columbia.edu/cu/cup/
pineapple
A decorative carved ornament representing a pineapple, used as a terminal or finial for a hipped roof or as the central element of an ogee pediment.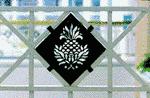 See also: Ornament

Illustrated Dictionary of Architecture Copyright © 2012, 2002, 1998 by The McGraw-Hill Companies, Inc. All rights reserved
pineapple
People are actually growing pineapples in their houses and yards up north. www.EdibleLandscaping.com is shipping more and more exotic fruits to all kinds of people. Each plant has over 200 flowers, the individual fruits of these flowers join together to produce what we call a pineapple. The tough middle stem contains bromelain, an enzyme that digests protein. This tough stem can be broken down in a strong blender like a Vitamix. Both root and fruit can be eaten. Great antiinflammatory. Used to help macular degeneration (eyes), digestion, sinus, arthritis, energy, bones, teeth, gums, blood clots, nausea, morning sickness. Stems used for cancer. Some people "fast" on nothing but pineapple for several weeks to expel worms, parasites and cleanse the body. Also great sugar substitute.
Edible Plant Guide © 2012 Markus Rothkranz
pineapple
[

′pī'nap·əl

]

(botany)

Ananas sativus. A perennial plant of the order Bromeliales with long, swordlike, usually rough-edged leaves and a dense head of small abortive flowers; the fruit is a sorosis that develops from the fleshy inflorescence and ripens into a solid mass, covered by the persistent bracts and crowned by a tuft of leaves.

McGraw-Hill Dictionary of Scientific & Technical Terms, 6E, Copyright © 2003 by The McGraw-Hill Companies, Inc.
pineapple
1. An ovoid, imbricated finial.
2. A decorative molding.
McGraw-Hill Dictionary of Architecture and Construction. Copyright © 2003 by McGraw-Hill Companies, Inc.
pineapple
1. a tropical American bromeliaceous plant, Ananas comosus, cultivated in the tropics for its large fleshy edible fruit
2. the fruit of this plant, consisting of an inflorescence clustered around a fleshy axis and surmounted by a tuft of leaves
Collins Discovery Encyclopedia, 1st edition © HarperCollins Publishers 2005