Anchor bolt
Also found in:
Acronyms
,
Wikipedia
.
anchor bolt
[

′aŋ·kər 'bōlt

]

(civil engineering)

A bolt used with its head embedded in masonry or concrete and its threaded part protruding to hold a structure or machinery in place. Also known as anchor rod.
Anchor bolt
A bolt with its head embedded in the structure; used to attach a structural member, such as securing a sill to a foundation wall.
anchor bolt, foundation bolt, hold-down bolt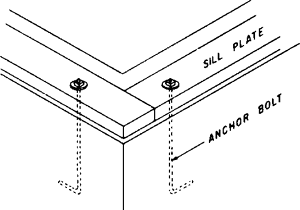 1. A steel bolt usually fixed in a building structure with its threaded portion projecting; used to secure frameworks, timbers, machinery bases, etc.