Andrea Palladio
Also found in:
Dictionary
,
Thesaurus
,
Wikipedia
.
Andrea Palladio
Birthday
Birthplace
Padova, Republic of Venice
Died
Nationality
Italian
Palladio, Andrea
(ändrĕ`ä päl-lä`dēō)

, 1508–80, Italian architect of the Renaissance. Originally a stonemason, he was trained as an architect in Vicenza, and later in Rome he examined the remains of Roman architecture. The measured drawings he made of these were published with compositions of his own and, based on the treatise of VitruviusVitruvius
(Marcus Vitruvius Pollio) , fl. late 1st cent. B.C. and early 1st cent. A.D., Roman writer, engineer, and architect for the Emperor Augustus. In his one extant work, De architectura (c.40 B.C., tr.
.....

Click the link for more information.

, a description of practical systems of design and proportioning. This famous work, I quattro libri dell'architectura (1570, tr. The Four Books of Architecture, 1716), has been reissued many times.

Palladio's buildings, chiefly town palaces and villas, were executed mostly in Vicenza and its vicinity. Usually they were made of humble materials that contrasted with their formal classicism. Palladio's first important work (begun 1549) was to rebuild the medieval town hall, the basilica at Vicenza. He designed arches supported on minor columns and framed between larger engaged columns. Each of these arch-and-column compositions formed what is termed a "Palladian motif" and was much imitated. The characteristic facade of many of Palladio's country houses displayed the classic temple front—superimposed pilasters or columns or often a colossal order two stories in height and supported by a rusticated ground story. Generally in his buildings he systematized the ground plan, designing a central hall around which other rooms were grouped in absolute symmetry.

Among his best-known houses (built in the 1550s and 1560s) are the Villa Rotonda (overlooking Vicenza), the Chiericati Palace and the Valmarana Palace (both: Vicenza), and the Villa Barbaro (Maser). At Venice he adapted the classical motif to three church facades, in his designs for San Francesco della Vigna, San Giorgio Maggiore, and Il Redentore. Just before his death Palladio planned the Teatro Olimpico, in which he incorporated a permanent scenic background, built in architectural perspective.

Reviving and redesigning the ancient Roman villa for a new humanist age, Palladio set the vocabulary of architectural pattern, proportion, and ornament for much of Western domestic architecture for centuries to come. His books and buildings exerted an unparalleled influence on European and American architecture. In the 17th cent., Inigo JonesJones, Inigo
, 1573–1652, one of England's first great architects. Son of a London clothmaker, he was enabled to travel in Europe before 1603 to study paintings, perhaps at the expense of the earl of Rutland.
..... Click the link for more information. imported Palladio's classic grandeur of design into England and profoundly influenced the course of English architecture. Subsequently, William KentKent, William,
1685–1748, English landscape gardener, architect, and painter. A minor painter, Kent made ceiling decorations for Kensington Palace. He greatly influenced landscape gardening by changing the prevailing artificial style to one based more closely on nature, as
..... Click the link for more information. , Colin CampbellCampbell, Colin,
d. 1729, Scottish architect, who, in England, became one of the initiators of the Neo-Palladian movement. Campbell's most important contribution to this revival of classicizing architecture was his publication of Vitruvius Britannicus (3 vol.
..... Click the link for more information. , Sir Christopher WrenWren, Sir Christopher,
1632–1723, English architect. A mathematical prodigy, he studied at Oxford. He was professor of astronomy at Gresham College, London, from 1657 to 1661, when he became Savilian professor of astronomy at Oxford.
..... Click the link for more information. , Sir William ChambersChambers, Sir William,
1723–96, English architect, b. Gothenburg, Sweden. He traveled extensively in the East Indies and in China making drawings of gardens and buildings, many of which were later published.
..... Click the link for more information. , and others created a great body of works termed Palladian. In the United States his influence can be seen in the manor houses of southern plantations, e.g., Thomas Jefferson's MonticelloMonticello
[Ital.,=little mountain], estate, 640 acres (259 hectares), central Va., near Charlottesville; home of Thomas Jefferson for 56 years. The mansion, which he designed, was begun in 1770 on property inherited from his father.
..... Click the link for more information. .
Bibliography
See R. Wittkower, Palladio and Palladianism (1974); J. S. Ackerman, Palladio (2d ed. 1977); W. Rybczynski, The Perfect House (2002); G. Giaconi and K. Williams, The Villas of Palladio (2003); L. Capellini, The Hand of Palladio (2009).
The Columbia Electronic Encyclopedia™ Copyright © 2013, Columbia University Press. Licensed from Columbia University Press. All rights reserved.
www.cc.columbia.edu/cu/cup/
Palladio, Andrea
(1508–1580)

Italian architect. St. Giorgio Maggore and Il Rendentore are his two notable buildings in Venice (1566). His Villa Capra Vicenza (1569) is the most symmetrical of his villas, with porticoes on each side. His Four Books on Architecture was published in 1570.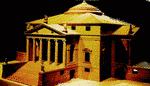 Illustrated Dictionary of Architecture Copyright © 2012, 2002, 1998 by The McGraw-Hill Companies, Inc. All rights reserved
The following article is from The Great Soviet Encyclopedia (1979). It might be outdated or ideologically biased.
Palladio, Andrea
(real surname di Pietro). Born Nov. 30, 1508, in Padua (?); died Aug. 19, 1580, in Vicenza. Italian architect. Son of a stonemason.
In 1524, Palladio moved to Vicenza, where he worked as a stonemason. He was noticed by the humanist G. G. Trissino, while taking part in the construction of the latter's villa in Cricoli (near Veneto). Trissino encouraged Palladio to study architecture and to receive a humanistic education. Palladio traveled to Verona, Rome, Split (Croatia), and Nîmes (France) to take measurements of ancient Greek and Roman monuments.
Palladio's structures, based on a thorough understanding of ancient architecture and influenced by Venetian Renaissance architecture, represent some of the crowning achievements of the Late Renaissance. The reconstruction of the basilica of Vicenza, also known as the Palazzo della Ragione, was Palladio's first major work. He added to the 13th-century palace a two-story marble arcade (begun 1549) that combines Roman grandeur with Venetian freedom and rhythmic richness. Palladio also built several palaces in Vicenza, including the Thiene palace (begun 1550), the Chiericati palace (begun 1550), the Valmarana palace (begun 1566), and the Loggia del Capitanio (1571). Most of the palaces are brick structures with plastered facades embellished with classical columns.
Palladio did not view the classical orders as inflexible norms of architectural form but rather as elements with which to produce the most diversified effects. His flexibility in reckoning with the practical problems of construction was unprecedented. Relying on the organizing principle of the classical orders, Palladio thought of a wall as being not an amorphous mass but as a body having a foundation, middle supporting element, and top. In order to maintain this relationship in multistory buildings, he frequently used the colossal order, which encompasses several floors.
Palladio developed new types of palaces and provided new variations for almost all previously existing types. He achieved a natural relationship between the facade and the building's layout, overcoming the contrast between the facade and interior courtyard characteristic of High Renaissance palaces. His palaces were well integrated in their urban surroundings, but his conception of an open architecture that blended harmoniously with its surroundings was most strongly reflected in his villas, which are imbued with a light, elegiac feeling for nature. Palladio's villas include the Villa Rotunda near Vicenza (1551–67; completed 1580–91, architect V. Scamozzi) and the Villa Barbaro-Volpi in Moser (near Treviso, 1560–70).
In his church buildings, which belong to the late period of his career (San Giorgio Maggiore, 1565–80; the Redentore, completed 1592—both in Venice), Palladio combined the colossal and conventional orders on the facade and succeeded in reconciling the motif of a classical temple portico with the interior space and serene tranquility of a basilica. In the Olympic Theater in Vicenza (1580–85, completed by Scamozzi), which is one of the first theater buildings of the modern period, Palladio used an optical illusion to create an impression of great depth on the stage (five radiating streets behind the stage come together in an artificially intensified perspective).
Palladio is well known for his treatise The Four Books of Architecture (1570), in which he described his completed and unrealized projects, and set forth the system of classical orders and provisions for reconstructing ancient monuments (interpreting them in the Renaissance spirit of Vitruvius). He also published The Antiquities of Rome (1554) and Julius Caesar's Commentaries (1575). Palladio greatly influenced the subsequent development of European architecture, resulting in the emergence of an individual trend in 17th- and 18th-century classicism.
WORKS
Chetyre knigi ob arkhitekture, 2nd ed. Moscow, 1938.
REFERENCES
Arkin, D. E. "Palladio v Vichentse." In his Obrazy arkhitektury. Moscow, 1941.
Vseobshchaia istoriia arkhitektury, vol. 5. Moscow, 1967. Pages 290–308. Bolletino del Centro di studi d'architettura "Andrea Palladio." (1958—.)
Pane, R. Andrea Palladio. … Turin, 1961.
Ackermann, J. Palladio. … Harmondsworth, 1966.
The Great Soviet Encyclopedia, 3rd Edition (1970-1979). © 2010 The Gale Group, Inc. All rights reserved.