Apple TV
Also found in:
Dictionary
,
Acronyms
,
Wikipedia
.
Apple TV
(1) A smart TV from Apple (an "iTV"). Long rumored, in 2012, CEO Tim Cook stated that it would never happen. Pundits always thought it odd that Apple would deal with 100-pound TV cartons when its 10-ounce set-top box adds smart TV functions to any TV set (see definition #2 below).

(2) The real Apple TV is a digital media hub that connects to an HDTV set, enabling music, movies and photos to be streamed over a wired or wireless home network. Introduced in 2007, users can view content from their iTunes libraries on a Mac or PC, and they can stream TV shows, movies and sports events from the iTunes Store, Netflix, Hulu and other providers. YouTube is also available.

Via Apple TV and Wi-Fi, Apple's AirPlay feature lets people send content from their iPhone, iPad or iPod touch to their TVs. In addition, photos stored in iCloud can be streamed to the device.

From Storage to Streaming Only
The first Apple TV had both analog and digital outputs and a hard disk for DVR storage. The 2010 model eliminated the disk and analog ports, requiring an HDMI connection to the TV. In 2012, the third-generation model boosted resolution from 720p to 1080p.

Games and Apps in 4G - 4K in 5G
A major update in 2015, the fourth-generation Apple TV features downloadable games and apps and up to 64GB of flash memory to store them. Siri-based voice commands for searching and playback control as well as a touchpad on the remote were added. The TOSLINK optical output was dropped. Based on iOS 9, the device's OS was branded as "tvOS."

In 2017, the fifth-generation Apple TV 4K was designed to support 4K content and HDR, but the previous 2K model was not discontinued. If available, iTunes purchases are automatically upgraded to 4K resolution. See smart TV, 4K TV, HDR, digital media hub, Internet TV, TOSLINK and AirPlay.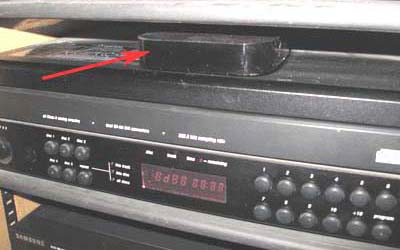 Rather Innocuous
The small 10-ounce black box lying on top of this CD changer is an Apple TV.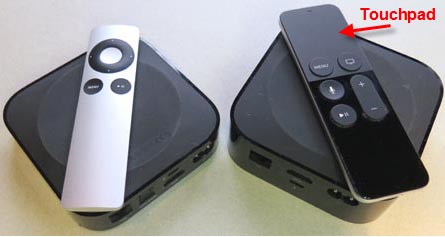 Fourth-Generation Apple TV
Although thicker than the previous unit, the fourth-generation Apple TV (right) is still rather small. To speak to Siri, a microphone button on the remote is pressed and held. The previous click wheel was replaced with a touchpad, and the 4G model is available along with the 5G Apple TV 4K.