spider
(redirected from Arachnea)
Also found in:
Dictionary
,
Thesaurus
,
Medical
,
Financial
.
spider
spider, organism, mostly terrestrial, of the class Arachnida, order Araneae, with four pairs of legs and a two-part body consisting of a cephalothorax, or prosoma, and an unsegmented abdomen, or opisthosoma.
The cephalothorax is covered by a shield, or carapace, and bears eight simple eyes. On the underside of the head (the cephalic part of the cephalothorax) are two pairs of appendages, the anterior pair called chelicerae and the second pair pedipalps, with which the spider captures and paralyzes its prey, injecting into it venom produced in the poison glands. The spider then liquefies the tissues of the prey with a digestive fluid and sucks this broth into its stomach where it may be stored in a digestive gland.
Breathing is by means of tracheae (air tubes) or book lungs, or both. Arachnid book lungs are similar to the gill books of horseshoe crabs but are internal and adapted to a terrestrial habitat. Young, growing spiders can regenerate missing legs and parts of legs.
Three pairs of spinnerets toward the tip of the abdomen produce protein-containing fluids that harden as they are drawn out to form silk threads. Several kinds of silk glands and spinnerets produce different kinds of silk used variously for constructing cocoons or egg sacs, spinning webs, and binding prey; other light strands are spun out for ballooning, or floating, the spiders, especially young ones, long distances on air currents. Spider silk is used for the cross hairs in certain optical instruments.
Spiders live chiefly on insects and other arthropods; some large spiders ensnare and kill small snakes, birds, and mammals. Many are cannibalistic; the female may eat the male when courtship and mating are completed. Most species are solitary, but a few live socially. Several species of spiders have bites that are exceptionally painful, or even dangerous to humans. Species of black widow spiders, which are found in the warmer parts of the world including the United States and S Canada, have a virulent neurotoxic venom. The bite venom of the brown recluse spider of SE and S central United States decomposes tissue, resulting in slow healing and sometimes leaving a sunken scar as large as a quarter.
Among the more interesting spiders are the tarantulas, which include the largest spider, the Goliath birdeater; the trapdoor spiders, which ambushes its prey from a silk-lined burrow covered by a hinged lid; the orb weavers, which spin beautiful circular webs; the diving bell spider, which lives underwater and uses a silk-enclosed air bubble to breathe; and the crab spiders, jumping spiders, and wolf spiders, named for their habits. Spiders are classified in the phylum Arthropoda, class Arachnida, order Araneae.
Bibliography
See B. J. Kaston, How to Know the Spiders (3d ed. 1978); R. F. Foelix, Biology of Spiders (1982); The Audubon Society Field Guide to North American Insects and Spiders (1992).
The Columbia Electronic Encyclopedia™ Copyright © 2022, Columbia University Press. Licensed from Columbia University Press. All rights reserved.
spider
The diagonal support in a Newtonian telescope.

Collins Dictionary of Astronomy © Market House Books Ltd, 2006
Spider
(pop culture)

Beginning in 1931, the Spider, a character created by author Grant Stockbridge (pseudonym of Norvell Page), emerged as one of the most popular heroes of pulp magazine fiction. Two years later, his popular adventures supported the formation of a monthly magazine, The Spider, with episodes that would be gathered at a later date and reissued in books. The Spider dedicated itself to the task of killing criminals and worked as a vigilante outside of the law and public approval. In 1935, on the heels of the popularity of Bela Lugosi's Dracula (1931), the Spider encountered one of its most horrendous foes, the Vampire King, and began the process of destroying this evil royalty.

The Spider was the secret identity of wealthy businessman Richard Wentworth. After donning a free-flowing uniform complete with hood and cape, a bullet-proof vest, false teeth, and mask, Wentworth turned into a crime fighter on the streets of New York City. The Spider's major assets were agility, intelligence, and determination. It was strong and acquitted itself quite well in hand-to-hand fighting. Its major weapon, above and beyond normal weapons like handguns, was a gun that squirted a gooey liquid that formed a web, entrapping its target. Unlike modern superheroes, the Spider had no supernormal powers. It did have a sidekick, Ram Singh from India, who served as his ultimate back-up system.

The Vampire King, the 1930s equivalent of the super villain, was a monster from South America. It is modelled not on the European vampire, but on the camazotz, the Mayan bat god/demon who made its most memorable appearance in the ancient text, Popol Vuh. It appeared as a large bat-man with exaggerated and somewhat grotesque features, including huge ears, wings, and claw-like hands with slender, elongated fingers. It did not possess supernatural powers and could not, for example, change his outward form. It was adept at flying and had great physical strength. The Vampire King's greatest asset, however, was the control over a large flock of vampire bats, which he could command to attack. Two South American natives accompanied him and used poisonous darts. Two huge half man/half animal monsters also accompanied him—a pig-man and an armadillo-man.

The final confrontation between the Spider and the Vampire King occurred after the Spider's capture. While the Vampire King conversed with the crime bosses to negotiate control of their North American enterprises, it drank the Spider's blood, which had been drained into a chalice. The Vampire King offered the criminals a sip as a means of sealing their evil pact. The Spider recovered just in time and his comrades appeared to assist it. The fight that ensued led to the Vampire King's destruction.

The Spider was brought to the screen in several Saturday matinee serials of the 1930s, but the Vampire King was not among its movie foes. Although a major source for contemporary superheroes, and seemingly a direct inspiration for Spiderman, the Spider was all but forgotten except with a few movie buffs, when, in 1991, he was revived by Eclipse Books in a new comic book series.

Sources:

Harmon, Jim, and Donald F. Glut. The Great Movie Serials: Their Sound and Fury. Garden City, NY: Doubleday & Company, 1972. 384 pp.

The Spider: Reign of the Vampire King. 1–3. Forestville, CA: Eclipse Books, 1991–1992.

Stockbridge, Grant. Death Reign of the Vampire King: a Spider Novel. London: Mews Books, 1935, 1976. 128 pp. Rept. New York: Carroll & Graf, 1992. 319 pp.

The Vampire Book, Second Edition © 2011 Visible Ink Press®. All rights reserved.
What does it mean when you dream about a spider?
A common household spider may symbolize the intricate web that the dreamer has woven or a web that has entrapped the dreamer. Alternatively, it may indicate feeling entangled in a sticky, clinging relationship.
The Dream Encyclopedia, Second Edition © 2009 Visible Ink Press®. All rights reserved.
spider
[

′spīd·ər

]

(agriculture)

An attachment to a cultivator that pulverizes the soil.

(computer science)

A program that searches the Internet for new, publicly accessible resources and transmits its findings to a database that is accessible to search engines.

(electricity)

A structure on the shaft of an electric rotating machine that supports the core or poles of the rotor, consisting of a hub, spokes, and rim, or some similar arrangement.

(engineering)

The part of an ejector mechanism which operates ejector pins in a molding press.

In extrusion, the membranes which support a mandrel within the head-die assembly.

(engineering acoustics)

A highly flexible perforated or corrugated disk used to center the voice coil of a dynamic loudspeaker with respect to the pole piece without appreciably hindering in-and-out motion of the voice coil and its attached diaphragm.

(invertebrate zoology)

The common name for arachnids comprising the order Araneida.

(mechanical engineering)

In a universal joint, a part with four projections that is pivoted between the forked ends of two shafts and transmits motion between the shafts. Also known as cross.

(metallurgy)

In founding, a device that consists of a frame with radiating arms or members and is used for strengthening a core or mold.

(petroleum engineering)

A steel block with a tapered opening which permits passage of pipe during movement into or from a well; designed to hold pipe suspended in the well when the slips are placed in the tapered opening and in contact with the pipe.

McGraw-Hill Dictionary of Scientific & Technical Terms, 6E, Copyright © 2003 by The McGraw-Hill Companies, Inc.
spider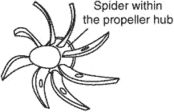 i
. That portion of a propeller assembly used to Support the propeller blades. The spider and the roots of the blades are enclosed in a high-strength propeller hub.
ii
. A system of pitch control in helicopters' rotors. The arms of the spider are connected to the leading edges of the rotor blades by control rods, and the spider spindle is situated inside the rotor shaft. When cyclic pitch changes are made, a ball joint mounting allows the spider to tilt. Collective pitch changes are made by raising or lowering the whole spider.
An Illustrated Dictionary of Aviation Copyright © 2005 by The McGraw-Hill Companies, Inc. All rights reserved
spider
1. any predatory silk-producing arachnid of the order Araneae, having four pairs of legs and a rounded unsegmented body consisting of abdomen and cephalothorax
2. any of various similar or related arachnids
3. a hub fitted with radiating spokes or arms that serve to transmit power or support a load
4. any implement or tool having the shape of a spider
5. Nautical a metal frame fitted at the base of a mast to which halyards are tied when not in use
6. Brit a cluster of elastic straps fastened at a central point and used to hold a load on a car rack, motorcycle, etc.
7. Billiards Snooker a rest having long legs, used to raise the cue above the level of the height of the ball
8. Angling an artificial fly tied with a hackle and no wings, perhaps originally thought to imitate a spider
Collins Discovery Encyclopedia, 1st edition © HarperCollins Publishers 2005
spider
(World-Wide Web)

(Or "robot", "crawler") A program that automatically explores the

World-Wide Web

by retrieving a document and recursively retrieving some or all the documents that are referenced in it. This is in contrast with a normal

web browser

operated by a human that doesn't automatically follow links other than inline images and

URL redirection

.

The

algorithm

used to pick which references to follow strongly depends on the program's purpose.

Index

-building spiders usually retrieve a significant proportion of the references. The other extreme is spiders that try to validate the references in a set of documents; these usually do not retrieve any of the links apart from redirections.

The

standard for robot exclusion

is designed to avoid some problems with spiders.

Early examples were

Lycos

and

WebCrawler

.

http://info.webcrawler.com/mak/projects/robots/robots.html

.

This article is provided by FOLDOC - Free Online Dictionary of Computing (foldoc.org)
spider
(1) Also known as a "crawler," "robot" (bot) and "intelligent agent," a spider is a program that searches for information on the Web. Spiders are widely used by Web search engines to index all the pages on a site by following the links from page to page. The search engine summarizes the content and adds the links to their indexes. Spiders are also used to locate Web pages that sell a particular product or to find blogs that have opinions about a product. See surface Web and bot.

(2) Software that captures a website for browsing offline. See offline browser.

(3) (Spider) A gaming platform from AMD. See Phenom.

Copyright © 1981-2019 by The Computer Language Company Inc. All Rights reserved. THIS DEFINITION IS FOR PERSONAL USE ONLY. All other reproduction is strictly prohibited without permission from the publisher.
Spider
(dreams)

Some believe that the spider is symbolic of an unkind and sneaky individual. Are you the spider building a web, or are you being dragged into one? A spider's web may represent entanglement and the general complexities of life. Depending on the details of the dream, it could also symbolize a smothering individual. Ironically, very old dream interpretations say that the spider is an omen of good luck! Alternatively, Carl Jung felt that the spider's web was a symbol of wholeness due to its formation (circular shape), construction, and complexity. As a "mandala, " the spider web might hold valuable meaning for the dreamer, and symbolize an integration of the dreamer's personality, leading to greater self-awareness and resulting in feelings of completeness. Therefore, the spider and his web may be considered profound and spiritual dream symbols that call for greater selfunderstanding and encourage us to derive meaning and satisfaction from the intricate framework and interplay of life.

Bedside Dream Dictionary by Silvana Amar Copyright © 2007 by Skyhorse Publishing, Inc.