abbey
(redirected from Archabbey)
Also found in:
Dictionary
,
Thesaurus
,
Legal
.
abbey,
monastic house, especially among Benedictines and Cistercians, consisting of not less than 12 monks or nuns ruled by an abbot or abbess. Many abbeys were originally self-supporting. In the Benedictine expansion after the 8th cent., abbeys were often important centers of learning and peaceful arts and, like FuldaFulda
, city (1994 pop. 58,710), Hesse, central Germany, on the Fulda River. It is a banking and financial center. Manufactures include textiles and clothing. Fulda grew around a Benedictine abbey founded in 744 by Sturmius, a pupil of St. Boniface, the missionary.
.....

Click the link for more information.

, were sometimes the nuclei of future towns. The buildings surround a church and include a dormitory, refectory, and guest house, all surrounded by a wall. The courtyard, derived from the Roman atriumatrium
, term for an interior court in Roman domestic architecture and also for a type of entrance court in early Christian churches. The Roman atrium was an unroofed or partially roofed area with rooms opening from it. In early times its center held a cooking hearth.
.....

Click the link for more information.

, was a usual feature, as was the cloistercloister,
unroofed space forming part of a religious establishment and surrounded by the various buildings or by enclosing walls. Generally, it is provided on all sides with a vaulted passageway consisting of continuous colonnades or arcades opening onto a court.
.....

Click the link for more information.

or arcade surrounding the court. Cluniac abbeys were always ornate, Cistercian ones notably bare. The CarthusiansCarthusians
, small order of monks of the Roman Catholic Church [Lat. abbr.,=O. Cart.]. It was established by St. Bruno at La Grande Chartreuse (see Chartreuse, Grande) in France in 1084.
.....

Click the link for more information.

with their special polity developed an altogether different structure called the charterhouse.

The Columbia Electronic Encyclopedia™ Copyright © 2013, Columbia University Press. Licensed from Columbia University Press. All rights reserved.

www.cc.columbia.edu/cu/cup/
Abbey
The monastic buildings of religious bodies governed by an abbot or abbess.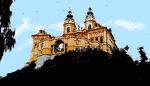 Illustrated Dictionary of Architecture Copyright © 2012, 2002, 1998 by The McGraw-Hill Companies, Inc. All rights reserved
The following article is from The Great Soviet Encyclopedia (1979). It might be outdated or ideologically biased.
Abbey
a Catholic monastery governed by a father superior or, in a convent, by a mother superior, subordinate to a bishop and sometimes directly to the pope. The larger and wealthier monasteries owned much land and often played an important religious, political, and economic role in feudal Western Europe. Such monasteries included the abbeys of Cluny, Saint-Denis, Port Royal, Saint Gall, Fulda, and Monte Cassino. During the Reformation and especially during the bourgeois revolution, the abbey lost its significance in the life of European society. Many abbeys were liquidated, but some still exist today.
The Great Soviet Encyclopedia, 3rd Edition (1970-1979). © 2010 The Gale Group, Inc. All rights reserved.
What does it mean when you dream about an abbey?
Dreaming of a convent or monastery may indicate that the dreamer needs to spend some time alone reflecting, or even needs to seek spiritual nourishment. Alternatively, it may symbolize isolation from the normal flow of life.
The Dream Encyclopedia, Second Edition © 2009 Visible Ink Press®. All rights reserved.
abbey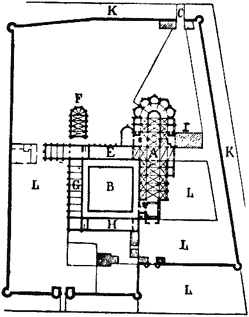 A monastery or convent; particularly the church thereof.
McGraw-Hill Dictionary of Architecture and Construction. Copyright © 2003 by McGraw-Hill Companies, Inc.
abbey
1. a building inhabited by a community of monks or nuns governed by an abbot or abbess
2. a church built in conjunction with such a building
3. such a community of monks or nuns
Collins Discovery Encyclopedia, 1st edition © HarperCollins Publishers 2005