Pediment
(redirected from Architectural pediment)
Also found in:
Dictionary
,
Thesaurus
.
pediment
pediment, in architecture, the triangular gable end on a building of classic type or a similar form used decoratively. It consists of the tympanum, or triangular wall surface, enclosed below by the horizontal cornice and above by the raking cornice, which follows the slope of the roof. In Greek architecture the pediment usually contained sculpture when used with the Doric order. In the Roman and Renaissance styles it was used also as a purely decorative motif, chiefly over doors and windows; the upper profile of the pediment was sometimes of segmental shape. In later Renaissance and baroque design the pediment often took on fantastic shapes, notably in the variants of the broken pediment, in which the two sides of the raking cornice do not join. The scrolled broken pediment was a favorite in American Colonial work, especially in doorways and over mantels.
The Columbia Electronic Encyclopedia™ Copyright © 2022, Columbia University Press. Licensed from Columbia University Press. All rights reserved.
Pediment
A low-pitched triangular gable above a facade, or a smaller version over porticos above the doorway or above a window; a triangular gable end of the roof above the horizontal cornice, often decorated with sculpture.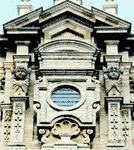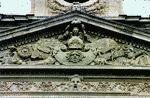 broken pediment
A pediment with its raking cornice split apart at the center, and the gap often filled with a cartouche, urn, or other ornament.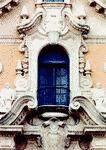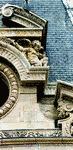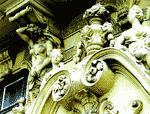 ogee pediment
A pediment in the shape of an ogee.
open pediment
A form of broken pediment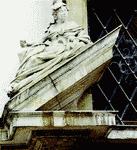 round pediment
A round or curved pediment, used ornamentally over a door or window.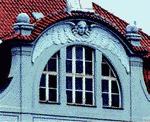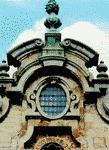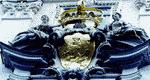 segmental pediment
A pediment above a door or window that takes the form of an arc of a circle.

swan's neck pediment
A broken pediment having a sloping double S-shaped element on each side of the pediment; used often in the Georgian style.
Illustrated Dictionary of Architecture Copyright © 2012, 2002, 1998 by The McGraw-Hill Companies, Inc. All rights reserved
The following article is from The Great Soviet Encyclopedia (1979). It might be outdated or ideologically biased.
Pediment
a submontane inclined plain underlain by bedrock that is mantled with a thin layer of loose deposits. Pediments form mostly in arid and semiarid regions as a result of surface erosion, the action of running water, and the parallel retreat of steep slopes.
---
Pediment
an ornamental architectural element. Pediments are cornice-like ledges, sometimes supported by brackets, found over windows or doors on the facade of a building or, less frequently, in the interior.
---
Pediment
in geomorphology, a zone of unconsolidated deposits formed at the foot of an elevated region by the merging of alluvial fans. The pediment consists of detrital material carried down by rivers, ephemeral streams, and sheetwash or transported by the force of gravity. Depending on the predominant process of transport, various types of pediments are distinguished: alluvial-proluvial, diluvial-proluvial, and diluvial. Pediments sometimes reach a width of 20–25 km, for example, on the southern slope of the Dzungarian Alatau.
The Great Soviet Encyclopedia, 3rd Edition (1970-1979). © 2010 The Gale Group, Inc. All rights reserved.
pediment
[

′ped·ə·mənt

]

(architecture)

A triangular face forming the gable of a two-pitched roof.

(geology)

A piedmont slope formed from a combination of processes which are mainly erosional; the surface is chiefly bare rock but may have a covering veneer of alluvium or gravel. Also known as conoplain; piedmont interstream flat.

McGraw-Hill Dictionary of Scientific & Technical Terms, 6E, Copyright © 2003 by The McGraw-Hill Companies, Inc.
pediment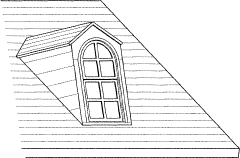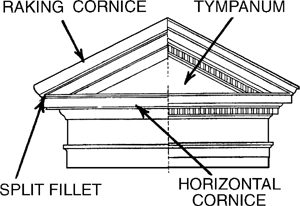 1. In Classical architecture, a triangular gable usually having a horizontal cornice, with raked cornices on each side, surmounting or crowning a portico or another major division of a façade, end wall, or colonnade.
2.
A gable above or over a door, window, or hood; usually has a horizontal cornice, crowned with curved sides, or may also be crowned with another configuration (such as broken sides) or its base may be broken in the middle. For definitions and illustrations of specific types, See
angular pediment, broken pediment, broken-scroll pediment, center-gabled pediment, curved pediment, open pediment, pointed pediment, round pediment, scroll pediment, segmental pediment, split pediment, swan's-neck pediment, triangular pediment
.
McGraw-Hill Dictionary of Architecture and Construction. Copyright © 2003 by McGraw-Hill Companies, Inc.
pediment
1. a low-pitched gable, esp one that is triangular, as used in classical architecture
2. a gently sloping rock surface, formed through denudation under arid conditions
Collins Discovery Encyclopedia, 1st edition © HarperCollins Publishers 2005