Aromatic Hydrocarbons
Also found in:
Dictionary
,
Thesaurus
,
Medical
.
Related to Aromatic Hydrocarbons:
benzene
The following article is from The Great Soviet Encyclopedia (1979). It might be outdated or ideologically biased.
Aromatic Hydrocarbons
organic compounds of carbon and hydrogen, containing a benzene ring.
The simplest and most important representative of aromatic hydrocarbons is benzene (I) and such homologues as methylbenzene, or toluene (II), and dimethylbenzene, or xylene. Aromatic hydrocarbons also include derivatives of benzene with unsaturated side chains—for example, styrene (III). There are also many aromatic hydrocarbons having several benzene rings per molecule—for example, diphenylmethane (IV) and diphenyl C6H5—C6H5, in which both benzene rings are directly connected to one another; in naphthalene (V) both rings share two carbon atoms. These hydrocarbons are called aromatics with condensed rings.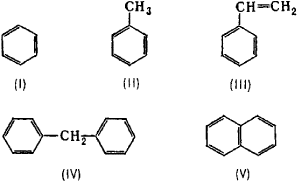 The basic source of aromatics are products of coking coal. On the average, one ton of coal resin yields 3.5 kg of benzene, 1.5 kg of toluene, and 2 kg of naphthalene. Of great importance is the production of aromatics from liquid petroleum hydrocarbons. For certain aromatics purely synthetic methods are practical. Thus ethylbenzene, produced from benzene and ethylene, is condensed to yield styrene:

The chemical properties of aromatic hydrocarbons differ sharply from those of the unsaturated alicyclics. They are relegated to a separate large class of chemical compounds. When aromatic compounds are treated with sulfuric acid, nitric acid, halogen, and other reagents, hydrogen atoms are replaced, and aromatic sulfo acids, nitrogen compounds, and halogen benzenes are formed. These compounds serve as intermediary products in the manufacture of dyes and pharmaceuticals. Styrene easily forms the useful and important polymer polystyrene. During the oxidation of naphthalene, phthalic acid o-C6H4(COOH)2 is formed; it serves as a raw material in the production of many dyes, alkyd resins, and phenolphthalein.
REFERENCE
Iukel'son, I. I. Tekhnologiia osnovnogo organicheskogo sinteza. Moscow, 1968.
The Great Soviet Encyclopedia, 3rd Edition (1970-1979). © 2010 The Gale Group, Inc. All rights reserved.