Arzni
The following article is from The Great Soviet Encyclopedia (1979). It might be outdated or ideologically biased.
Arzni
an urban-type settlement in Abovian Raion, Armenian SSR, on the Razdan River (a left tributary of the Araks), 6 km from the railroad station Abovian and 24 km from Yerevan. In 1969 it had a population of 5,700. Arzni is a mineral spa with a temperate climate. The therapeutic agent is mineral water having the following chemical composition: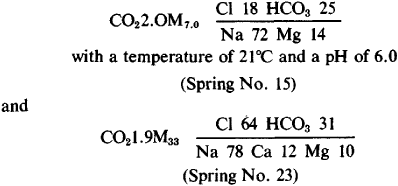 Mineral waters of the Arzni type are the product of leaching from a saline Cenozoic layer. Carbon dioxide is formed by magmatic and thermometamorphic processes. The spring water is used for drinking as well as for bathing. It is prescribed for cardiovascular disorders and accompanying disorders of the digestive organs, as well as for metabolic disorders. Facilities include sanatoriums, bathhouses, and a polyclinic. The season extends over the entire year. Arzni has plants for bottling mineral water and manufacturing container glassware and crystal. The Arzni hydroelectric power plant is located 2 km from Arzni.
REFERENCE
Demekhin, A. P . Arzni: Gidrogeologicheskii ocherk. Yerevan, 1940.
The Great Soviet Encyclopedia, 3rd Edition (1970-1979). © 2010 The Gale Group, Inc. All rights reserved.