Atari ST
(redirected from Atari STE)
Atari ST
(computer)

A

personal computer

released by

Atari

in 1985. The "ST" stands for "Sixteen/Thirty-two", from the

Motorola 68000

's 16-bit external bus and 32-bit processor. The original 520ST model had an external

floppy drive

and power supply whereas the 1040ST had them built-in. The 520 and later 520STFM came with 512 KB of

RAM

, the 1040 had 1 MB. Several upgraded models followed, up to the 1993

Motorola 68030

based

Falcon

.

The ST was the first home computer with built-in MIDI ports and plenty of MIDI software. A wide range of other software from office to games was also available.

This article is provided by FOLDOC - Free Online Dictionary of Computing (foldoc.org)
Atari ST
An early personal computer series from Atari. Introduced in 1985 to compete with Apple's Mac, the ST was the first home computer to include MIDI ports. Popular with musicians due to its MIDI support as well as desktop publishing, especially in Europe, the ST line was discontinued in the early 1990s.

The ST along with the subsequent STF, STM and STE models used Motorola 68K CPUs and ran under the TOS operating system and GEM user interface. Certain models were given the MEGA moniker (MEGA ST, MEGA STE), and STacy and ST BOOK were portable versions. ST machines supported 640x480 monochrome and 640x200 color displays. See Atari.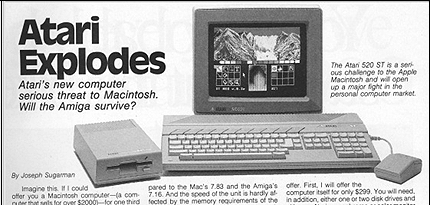 A Lot of Praise
Joe Sugarman, the marketer famously known for his astute product descriptions, praised the ST in this full-page ad for his JS&A mail order company in 1986.
Copyright © 1981-2019 by The Computer Language Company Inc. All Rights reserved. THIS DEFINITION IS FOR PERSONAL USE ONLY. All other reproduction is strictly prohibited without permission from the publisher.