cruise control
(redirected from Automatic distance control)
Also found in:
Dictionary
,
Thesaurus
,
Acronyms
.
cruise control
[

′krüz kən′trōl

]

(navigation)

The act or practice of operating an aircraft so as to achieve the most efficient performance on a given flight under available conditions; it may be instituted to obtain maximum economy, endurance, speed, or range, or maximum efficiency at a predetermined airspeed or power setting.
cruise control
An engine operating procedure that allows the best efficiency for power and fuel consumption during cruising. In the case of reciprocating engines, as fuel is consumed and the aircraft becomes lighter, cruise control is exercised by maintaining altitude and either reducing power while maintaining constant speed or by letting the speed increase at a constant power setting. In the case of gas turbine engines, the normal procedures employed are maintaining constant altitude and cruise RPM, by the stepped-up climb method and the cruise-climb method.
adaptive cruise control
Adaptive cruise control (ACC) maintains the distance to the vehicle in front of it. That distance, which is set by the driver as a number of car lengths, is measured by sending radar signals from the front of the vehicle. When the cruise control is turned on and the speed is set, the system automatically brakes and accelerates. Also called "active cruise control," "dynamic cruise control," "smart cruise control" and "intelligent cruise control."

Like regular cruise control, some ACC systems disengage at slower speeds. However, "stop and go ACC," also called "traffic jam assist," will come to a complete stop, which enables drivers to use the system in bumper-to-bumper traffic. See automotive safety systems.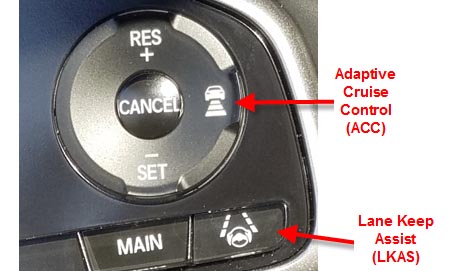 Set the Distance
The steering wheel control on this 2017 Honda allows drivers to choose short, middle, long and extra long to set the distance threshold to the car ahead based on their driving preferences.