radiator
(redirected from Automobile radiator)
Also found in:
Dictionary
,
Thesaurus
,
Medical
.
radiator,
device used to heat an area surrounding it or to cool a fluid circulating within it. The familiar radiators of steam and hot water heating systems in buildings are misnamed, as they operate principally by convectionconvection,
mode of heat transfer in fluids (liquids and gases). Convection depends on the fact that, in general, fluids expand when heated and thus undergo a decrease in density (since a given volume of the fluid contains less matter at a higher temperature than at the
.....

Click the link for more information.

, in which heat is transferred by air currents, rather than by radiationradiation
, term applied to the emission and transmission of energy through space or through a material medium and also to the radiated energy itself. In its widest sense the term includes electromagnetic, acoustic, and particle radiation, and all forms of ionizing radiation.
.....

Click the link for more information.

, in which heat is transferred by waves that do not need air (or any other substance) as a medium for their transmission. Typically they are made of cast iron or of steel, aluminum, or copper. They are usually constructed in sections so that several can be joined together to give a sufficient surface area for efficient heat transfer. Heating efficiency is reduced if screens or shelves or even certain kinds of paint cover them. When steam is the heating agent, the radiator acts as a condenser; heat is given off at the rate of about .5 calories per gram of steam for each degree centigrade decrease in temperature and 540 calories for each gram of steam that changes to water (see vaporizationvaporization,
change of a liquid or solid substance to a gas or vapor. There is fundamentally no difference between the terms gas and vapor, but gas is used commonly to describe a substance that appears in the gaseous state under standard conditions of pressure and
.....

Click the link for more information.

). The condensate is returned to the boiler where it is reheated to form steam. In hot water systems there is a continuous circulation of hot water. The heat is given off by the hot water or steam to the inner wall of the radiator, from which it is transmitted to the outer wall by conductionconduction,
transfer of heat or electricity through a substance, resulting from a difference in temperature between different parts of the substance, in the case of heat, or from a difference in electric potential, in the case of electricity.
.....

Click the link for more information.

; there it passes off chiefly by convection currents set up by raising the temperature of the air that is in contact with the heated surfaces and to a lesser extent by radiation. Coil radiators consist essentially of long steam pipes; they are used widely in factories, gymnasiums, auditoriums, and halls, being set on the walls or ceilings to conserve floor space. Gas radiators use a gas flame to heat air or water or to generate steam. Electric radiators have an electric resistance unit set in a reflector; heat is generated when an electric current flows through the unit. An appreciable fraction of this heat is transferred from the radiator by radiation. The automobile radiator is a part of the cooling system of the automobile engine. As its operation depends on a flow of air across it, it operates mainly by convection.

The Columbia Electronic Encyclopedia™ Copyright © 2013, Columbia University Press. Licensed from Columbia University Press. All rights reserved.

www.cc.columbia.edu/cu/cup/
Radiator
A heating unit which transfers heat by radiation; usually fed by hot water or steam.
Illustrated Dictionary of Architecture Copyright © 2012, 2002, 1998 by The McGraw-Hill Companies, Inc. All rights reserved
The following article is from The Great Soviet Encyclopedia (1979). It might be outdated or ideologically biased.
Radiator
one of the most common heating devices used in heating systems for residential, public, and industrial buildings.
The radiators most commonly used in the USSR are made of cast iron and consist of interconnected two-channel core sections through which the heat-transfer agent (water or steam) circulates; the number of sections depends on the rated heating surface. Other types of cast-iron radiators used include single-channel radiators in the USSR and, in other countries, multichannel radiators, with up to nine channels in each section. Single or paired stamped steel radiators of the panel type, also called heating panels, are becoming popular; considerably less metal is consumed in their manufacture. Porcelain and ceramic radiators, which meet very high sanitary and health requirements, are sometimes used.
---
Radiator
a device for removing heat from the liquid that circulates through the cooling system of an internal-combustion engine. A radiator consists of a core (the cooling part), with upper and lower headers (reservoirs) and connecting pipes. Radiator cores may have several staggered rows of oval brass tubes, with cooling fins soldered to the tubes, or one row of flat brass tubes with fins soldered to them. The upper header has a filler neck with a leakproof cap containing a combined pressure and vacuum relief valve. There is a valve in the lower header for draining the coolant.
The Great Soviet Encyclopedia, 3rd Edition (1970-1979). © 2010 The Gale Group, Inc. All rights reserved.
radiator
[

′rād·ē'ād·ər

]

(acoustics)

A vibrating element of a transducer which radiates sound waves.

(electromagnetism)

The part of an antenna or transmission line that radiates electromagnetic waves either directly into space or against a reflector for focusing or directing.

A body that emits radiant energy.

(engineering)

Any of numerous devices, units, or surfaces that emit heat, mainly by radiation, to objects in the space in which they are installed.

(physics)

In general, a body which emits particles or radiation in any form.

A body placed in a beam of ionizing radiation which, as a result, emits radiation of another kind.

McGraw-Hill Dictionary of Scientific & Technical Terms, 6E, Copyright © 2003 by The McGraw-Hill Companies, Inc.
Radiator
Any of numerous devices, units, or surfaces that emit heat, mainly by radiation, to objects in the space in which they are installed. Because their heating is usually radiant, radiators are of necessity exposed to view. They often also heat by conduction to the adjacent thermally circulated air.
Radiators are usually classified as cast-iron (or steel) or nonferrous. They may be directly fired by wood, coal, charcoal, oil, or gas (such as stoves, ranges, and unit space heaters). The heating medium may be steam, derived from a steam boiler, or hot water, derived from a water heater, circulated through the heat-emitting units.
Electric heating elements may be substituted for fluid heating elements in all types of radiators, convectors, and unit ventilators. See Hot-water heating system, Radiant heating, Steam heating
McGraw-Hill Concise Encyclopedia of Engineering. © 2002 by The McGraw-Hill Companies, Inc.
radiator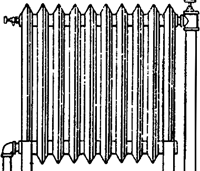 A heating unit usually exposed to view within the room or space to be heated; transfers heat by radiation to objects within visible range, and by conduction to the surrounding air, which in turn is circulated by natural convection; usually fed by steam or hot water.
McGraw-Hill Dictionary of Architecture and Construction. Copyright © 2003 by McGraw-Hill Companies, Inc.
radiator
i. The source of radiant energy. It could be a source of electromagnetic radiation such as a hostile radar or a radio transmitter.
ii. A heat exchanger, which dumps undesired heat into the atmosphere.
An Illustrated Dictionary of Aviation Copyright © 2005 by The McGraw-Hill Companies, Inc. All rights reserved
radiator
1. a device for heating a room, building, etc., consisting of a series of pipes through which hot water or steam passes
2. a device for cooling an internal-combustion engine, consisting of thin-walled tubes through which water passes. Heat is transferred from the water through the walls of the tubes to the airstream, which is created either by the motion of the vehicle or by a fan
3. Electronics the part of an aerial or transmission line that radiates electromagnetic waves
4. an electric space heater
Collins Discovery Encyclopedia, 1st edition © HarperCollins Publishers 2005