Ban, Shigeru
Ban, Shigeru,
1957–, Japanese architect. After graduating (1984) from the Cooper Union School of Architecture, New York City, he established (1985) a practice in Tokyo, later adding offices in Paris and New York. Known especially for temporary structures made from nonstandard building materials and built in response to environmental or societal disasters, he first used cardboard tubes as construction materials in the mid-1980s. In 1994 he suggested that they be used to construct housing for Rwandan refugees; some 50 shelters were eventually built (1998), using paper tubes for the frame and fabric for walls and roofs. After the Kobe, Japan, earthquake (1995), Ban designed temporary housing with foundations made of beer crates, walls of paper tubes, and canvas roofs. Similar post-earthquake projects have included a temporary school (2008) in Chengdu, China, and the "Cardboard Cathedral" (2011) in Christchurch, New Zealand. Among his more conventional, though nonetheless inventive works are the Naked House, Kawagoe, Japan (2000), in which four large boxes on casters serve as movable rooms in a long, light-flooded interior; the mobile Nomadic Museum (2005), constructed of shipping containers that can be disassembled, moved, and reasssembled; the Pompidou Center's satellite museum in Metz, France (2010), with a swooping roof inspired by a bamboo hat; Colorado's Aspen Art Museum (2014), a glass box wrapped by a latticework grid of resin-infused paper and wood veneer; and the Mount Fuji World Heritage Center, Japan (2017), whose cypress-lattice cone echoes and inverts the mountain's shape. In 2014 Ban was awarded the Pritzker PrizePritzker Prize,
officially The Pritzker Architecture Prize
, award for excellence in architecture, given annually since 1979. Largely modeled on the Nobel Prize, it is the premier architectural award in the United States and is named for the family that founded the
.....

Click the link for more information.

.

The Columbia Electronic Encyclopedia™ Copyright © 2013, Columbia University Press. Licensed from Columbia University Press. All rights reserved.

www.cc.columbia.edu/cu/cup/
Ban, Shigeru
(1957–)

Japanese and international architect, most famous for his innovative work with paper, particularly recycled cardboard paper tubes used to quickly and efficiently house disaster victims. Ban's work is known for his humanitarianism and attraction to ecological architecture. Ban's use of paper and other materials is heavily based on its sustainability and that it produces very little waste. As a result of this, Ban's DIY (do-it-yourself) refugee shelters, used in Japan after the Kobe earthquake, and in Turkey and Rwanda, are very popular and effective for low-cost disaster relief housing. Ban created the Japanese pavilion building at Expo 2000 in Hanover, Germany, in collaboration with the architect Frei Otto and structural engineering firm Buro Happold. The 72-meter-long grid-shell structure was made with paper tubes. After the exhibition the structure was recycled and returned to paper pulp. Ban fits well into the category of "ecological architects," but he also can make solid claims for being a modernist, a Japanese experimentalist, as well as a rationalist.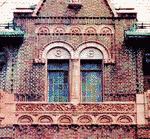 Illustrated Dictionary of Architecture Copyright © 2012, 2002, 1998 by The McGraw-Hill Companies, Inc. All rights reserved