barcode
(redirected from Barcode symbology)
Also found in:
Dictionary
,
Medical
.
barcode
barcode, computer coding system that uses a printed pattern of lines and bars to identify such things as products, mail and packages, and customer accounts; the term also is used for similar coding systems that do not use bar-based patterns. Barcodes are read by optically scanning the printed pattern and using a computer program to decode the pattern. In a linear barcode system, the code itself contains no information about the item to which it is assigned but represents a string of identifying numbers or letters. When the code is read by an optical scanner linked to a computerized or networked device, the device can provide and record information about the item, such as its price or the quantity sold, from and to databases.
Americans Bernard Silver and Norman Woodland conceived of the first barcode system in the 1940s, but a practicable system was not feasible until George Laurer developed a scanner that could read barcodes years later. The first standardized barcode adopted for general use was the linear Universal Product Code (UPC), chosen by North American supermarkets in 1973. It entered commerical use in 1974, and became widely deployed in the 1980s. The original UPC used a set of two dark (usually black) and two light (usually white) bars of specified thicknesses to represent 12 numbers, but beginning in 2005 the Uniform Code Council, now known as GS1 US, adopted the similar European Article Numbering Code (EAN), which encodes 13 numbers and had become the international standard. The standards for the international product barcode system are managed by GS1, formerly known as EAN International, which is based in Brussels. The dark bars may be from one to three units wide and the light bars from one to four units. For registration purposes two one-unit dark bars are placed at each end and in the middle. Each item is assigned a unique numeric code, which is printed as a barcode on the item's packaging.
So-called two-dimensional (2D) barcodes permit the encoding of information about an item in addition to an identifying code. In a 2D barcode, two axes, or directions, are used for recording and reading the codes and the bar size is reduced, increasing the space available for data in the way that a column of words improves on a column of letters. Some 2D codes do not use bars, such as the United Parcel Service's hexagon-based Maxicode. Manufacturers and others now use 2D Quick Response (QR) codes on products and other objects to provide information associated with those items directly to individuals who can read the barcodes using smartphones. QR codes are also used for a variety of other purposes.
Radio-frequency identification (RFID) could supplant the barcode in most applications. Radio-based devices overcome many of the limitations inherent in the barcode's optical technology.
The Columbia Electronic Encyclopedia™ Copyright © 2022, Columbia University Press. Licensed from Columbia University Press. All rights reserved.
barcode
The printed code used for recognition by a barcode scanner (barcode reader). The "bar" in barcode comes from the ubiquitous, one-dimensional (1D) UPC barcode found on countless product packages. Several two-dimensional (2D) barcodes are also in wide use, but they are not as bar-like as the UPC. The 2D codes are scanned horizontally and vertically and hold considerably more data. All the 2D examples below contain the same data: the URL for www.computerlanguage.com. See barcode scanner, mobile tagging, point of sale and AIM. Contrast with RFID.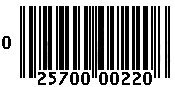 1D Barcode
One-dimensional (1D) UPC barcodes are used on millions of consumer items as well as shipping containers. For details, see UPC.

2D QR Code
Widely used to mark products as well as identify establishments, QR codes are recognizable by their four squares with dots in the middle. For details, see QR code.

2D PDF417
Symbol Technologies' PDF417 is a general-purpose barcode that is recognizable by patterns of vertical lines on each side. For details, see PDF417.

2D DataMatrix
The DataMatrix code is used to mark small parts and holds up to 2,355 alphanumeric and 3,116 numeric characters. It is recognizable by its border with two solid lines and two alternating lines.

2D MaxiCode
The MaxiCode uses hexagonal symbols and is recognizable by its center bull's eye. Used for high-speed sorting, it holds up to 93 alphanumeric and 138 numeric characters. For more data, MaxiCodes can be chained together. (Image courtesy of AIM, Warrendale, PA, www.aimglobal.org)

2D BeeTagg
Designed for mobile tagging, this system from Switzerland accepts company logos. Recognizable by its honeycomb-like cells, BeeTaggs are also used for exchanging business card data. For more information, visit www.beetagg.com. See mobile tagging.

2D Microsoft Tag
Also developed for mobile tagging, Microsoft's system uses color. Another form of the tag allows a company logo to occupy the background. For details, see Microsoft Tag.
Copyright © 1981-2019 by The Computer Language Company Inc. All Rights reserved. THIS DEFINITION IS FOR PERSONAL USE ONLY. All other reproduction is strictly prohibited without permission from the publisher.