Base map
Also found in:
Dictionary
.
base map
[

′bās 'map

]

(mapping)

A map having essential outlines and onto which additional geographical or topographical data may be placed for comparison or correlation. Also known as mother map.
Base map
Graphic representation of a defined area, such as a particular site, neighborhood, town, region, or state, showing legal boundaries and physical features.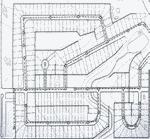 base map
In urban planning, a map indicating the significant existing physical features of an area, i.e., streets, rivers, parks, railroads, etc., and serving as a foundation for all subsequent mapping.