bay
(redirected from Bayes)
Also found in:
Dictionary
,
Thesaurus
,
Medical
,
Legal
,
Financial
,
Idioms
,
Wikipedia
.
bay:
see laurellaurel,
common name for the Lauraceae, a family of forest trees and shrubs found mainly in tropical SE Asia but also abundant in tropical America. Most have aromatic bark and foliage and are evergreen; deciduous species are usually those that extend into temperate zones.
.....

Click the link for more information.

; magnoliamagnolia,
common name for plants of the genus Magnolia, and for the Magnoliaceae, a family of deciduous or evergreen trees and shrubs, often with showy flowers. They are principally of north temperate regions with centers of distribution in Asia and E North America.
.....

Click the link for more information.

.
Bay
A principal compartment or division in the architectural arrangement of a building, marked either by buttresses or pilasters in the wall, by the disposition of main arches and pillars, or by any repeated spatial units that separate it into corresponding portions.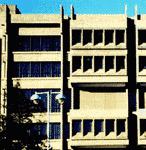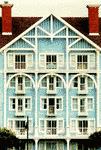 cant bay
A bay erected on a canted outline.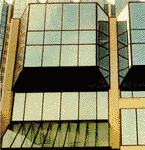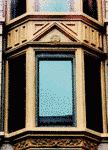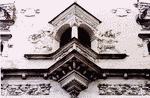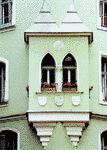 Laurel
Bay

Seasonal decorations of greenery have embellished European Christmas celebrations for centuries. Laurel's association with the season can be traced back even further, however. The Romans celebrated their new year festival, Kalends, by adorning their homes and temples with evergreen branches. Both the Greeks and the Romans crowned the victors of their athletic and other contests with wreaths of laurel, since the laurel branch served as a symbol of victory. In later times northern Europeans gathered laurel, or bay, for their Christmas garlands. In the seventeenth century the English poet Robert Herrick (1591-1674) noted that, according to local custom, "Rosemary and baies [bays] that are most faire were stuck about the houses and the churches as Christmas decorations." Christian authorities explained this use of laurel with reference to its ancient association with victory, declaring that when used in Christmas trimmings the fragrant leaves represented the triumph of Jesus Christ.

Further Reading

Crippen, Thomas G. Christmas and Christmas Lore. 1923. Reprint. Detroit, Mich.: Omnigraphics, 1990.
Bay
a small part of a sea, gulf, lake, or reservoir separated from open water by areas of dry land. Local conditions determine the hydrological characteristics of a bay, which differ somewhat from the characteristics of the nearby waters. Usually bays form good harbors for vessels (Gelendzhik and Novorossiisk bays in the Black Sea, the Golden Horn in the Bosporus Strait, and other bays).
What does it mean when you dream about a bay?
A body of water often represents the unconscious, so the shoreline of a bay indicates the threshold between conscious and unconscious. As an open semi-circle, a bay can also represent female sexuality. Additionally, it might refer to idioms such as to "keep one at bay." (See also Beach).
bay
[

bā

]

(aerospace engineering)

A space formed by structural partitions on an aircraft.

(architecture)

Division of a building between adjacent beams or columns.

(botany)

Laurus nobilis. An evergreen tree of the laurel family.

(computer science)

(electromagnetism)

One segment of an antenna array.

(engineering)

A housing used for equipment.

(geography)

A body of water, smaller than a gulf and larger than a cove in a recess in the shoreline.

A narrow neck of water leading from the sea between two headlands.

(geophysics)

A simple transient magnetic disturbance, usually an hour in duration, whose appearance on a magnetic record has the shape of a V or a bay of the sea.
bay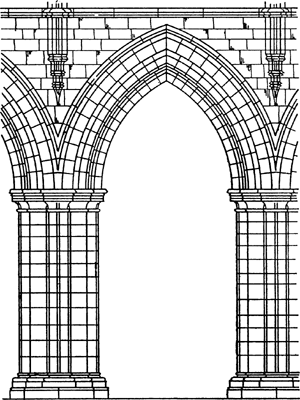 1. Within a structure, a regularly repeated spatial element defined by beams or ribs and their supports.
2. A protruded structure with a
bay
1
1. a wide semicircular indentation of a shoreline, esp between two headlands or peninsulas
2. an extension of lowland into hills that partly surround it
3. US an extension of prairie into woodland
---
bay
2
1. an alcove or recess in a wall
3. a compartment in an aircraft, esp one used for a specified purpose
4. Nautical a compartment in the forward part of a ship between decks, often used as the ship's hospital
5. Brit a tracked recess in the platform of a railway station, esp one forming the terminus of a branch line
---
bay
3
1. a small evergreen Mediterranean laurel, Laurus nobilis, with glossy aromatic leaves, used for flavouring in cooking, and small blackish berries
2. any of various other trees with strongly aromatic leaves used in cooking, esp a member of the genera Myrica or Pimenta
3. any of several magnolias
4. any of certain other trees or shrubs, esp bayberry
---
bay
4
a. a moderate reddish-brown colour
b. (as adjective): a bay horse
bay
(hardware)

(As in an aeroplane "cargo bay") A space in a cabinet into which a device of a certain size can be physically mounted and connected to power and data.

Common examples are a "drive bay" into which a

disk drive

(usually either 3.5 inch or 5.25 inch) can be inserted or the space in a

docking station

where you insert a

notebook computer

or

laptop computer

to work as a

desktop computer

or to charge their batteries, print or connect to the office network, etc.