Belluschi, Pietro
Belluschi, Pietro
(pyĕ`trō bəlo͞o`skē)

, 1899–1994, Italian-American civil engineer, designer, and architect. Belluschi served as dean and professor at the Massachusetts Institute of Technology's school of architecture and planning (1951–65). He designed numerous residential and office buildings, including the Equitable Building in Portland, Oreg. (1948) and the Juilliard School, part of the Lincoln Center for the Performing ArtsLincoln Center for the Performing Arts,
in central Manhattan, New York City, between 62d and 66th streets W of Broadway. Lincoln Center is both a complex of buildings and the arts organizations that reside there.
.....

Click the link for more information.

in New York City. The latter reveals an interesting use of dark glass.
Belluschi, Pietro
(1899–1994)

Italian-born architect and engineer; he showed an inclination to the International Style. His Equitable Life Assurance building in Portland, Oregon (1944), was one of the first examples of an aluminum and glass curtain wall enclosing a concrete frame tower. Later works include the cathedral of Saint Mary of the Assumption (Illus.), with Pier Luigi Nervi, San Francisco, CA, 1969.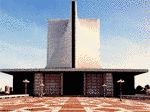 Belluschi, Pietro
(1899– ) architect; born in Ancona, Italy. He studied at the University of Rome and Cornell University. In his Portland, Oregon, practice and in collaboration (particularly in his later work), he designed more than 1,000 buildings, mostly churches, educational and commercial buildings, in the late International style. Belluschi early mastered the sheer "curtain wall" (Equitable Savings Building (1945–48), Portland, Ore.). He was dean of the architecture school at the Massachusetts Institute of Technology (1951–65).