Blu-ray
Also found in:
Dictionary
,
Thesaurus
,
Medical
,
Financial
,
Acronyms
,
Wikipedia
.
Blu-ray
The current optical disc format for high-definition (HD) video at 2K resolution (for 4K Blu-ray, see Ultra HD Blu-ray). Developed primarily by Sony, Blu-ray discs have the same diameter as DVDs, but the pits are a third the size on tracks packed more tightly together. As a result, movies with 1,080 lines of resolution can be recorded, compared to 480 or 576 for a DVD (U.S. NTSC format is 480 lines, PAL format is 576 lines). Blu-ray players read CDs and DVDs, support navigation via menus programmed in Java and feature advanced audio and video formats (see Java, Dolby Digital, DTS, H.264, VC-1).

Commentary and Extra Content
All players support Profile 1.0. Bonus View (Profile 1.1) requires 256MB of flash memory and uses a second A/V codec for running picture-in-picture commentary. BD-Live (Profile 2) requires 1GB of flash to access content from the Internet such as scenes that were cut, interviews with the director and actor history. See BD-Live.

Blu-ray History
In 2003, the first Blu-ray recorders were sold in Japan, and in 2006, Sony's PlayStation 3 was one of the early products to feature a Blu-ray drive (see PlayStation). For several years, Blu-ray competed with HD DVD for the new high-res standard, but HD DVD was later abandoned (see HD DVD). See HTL Blu-ray, HD formats, Blu-ray 3D, DVD and DTV.


FULL-SIZE 120MM DISCS    Record  ---Modes--Layers          GB  Hours  ROM  RE  RDVD (480/576 lines)
  Single (DVD-5)  4.3   2     X   X   X
  Dual   (DVD-9)  7.9   4     X   X   X

  BLU-RAY (1,080 lines)
  Single          25    4.5   X   X   X
  Dual            50    9     X   X   X
  Triple BDXL    100   18         X   X
  Quad BDXL      128   23             X

    ROM = Read Only (pressed movie disc)RE = REwritableR = Recordable (write once)

Blu-ray and More
The award-winning Oppo BDP-103 plays Blu-ray, Blu-ray 3D and DVD movies, numerous video formats from a USB flash drive (orange USB inserted), as well as music from CD, SACD and DVD-Audio discs. "FW Found" means a firmware update is available.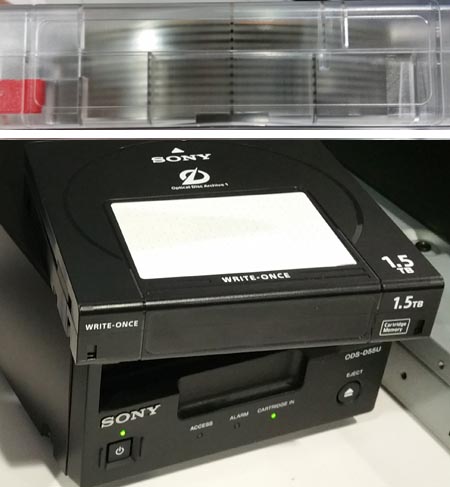 Blu-ray Disc Xtra Large (BDXL)
For permanent archival storage, this Sony optical system records on quad-layer BDXL discs one time only. The plastic demo unit (top) reveals all 12 discs in the 1.5TB cartridge (see table above).
Copyright © 1981-2019 by The Computer Language Company Inc. All Rights reserved. THIS DEFINITION IS FOR PERSONAL USE ONLY. All other reproduction is strictly prohibited without permission from the publisher.