Blu-ray player
(redirected from Blue Ray player)
Blu-ray player
(1) Software that plays Blu-ray and DVD discs. See media player.

(2) A stand-alone unit that plays Blu-ray and DVD movie discs. It also plays music from CDs, and newer models have built-in Netflix support, as well as access to other streaming services. A "Blu-ray player" is an input source for a TV or home theater, whereas a "Blu-ray drive" is a peripheral device for a computer. See Blu-ray and DVD.




Blu-ray and More
The award-winning Oppo BDP-103 also plays media from a flash drive (orange object), as well as high-resolution SACD and DVD-Audio discs. "FW Found" means a firmware update is available. See SACD and DVD-Audio.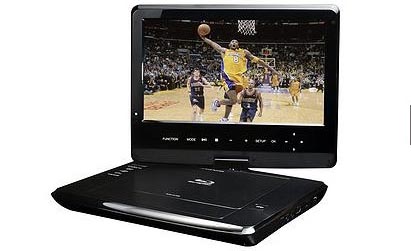 A Portable Player
Portable Blu-ray players such as this Azend unit are self-contained viewers with screen and speakers. (Image courtesy of Azend Group Corporation, www.azendcorp.com)
Copyright © 1981-2019 by The Computer Language Company Inc. All Rights reserved. THIS DEFINITION IS FOR PERSONAL USE ONLY. All other reproduction is strictly prohibited without permission from the publisher.