Bochka
Also found in:
Financial
.
The following article is from The Great Soviet Encyclopedia (1979). It might be outdated or ideologically biased.
Bochka
(literally, barrel), an old Russian liquid measure used until the introduction of the metric system; equal to 40 vedra (pails), or 491.96 liters.
The Great Soviet Encyclopedia, 3rd Edition (1970-1979). © 2010 The Gale Group, Inc. All rights reserved.
bochka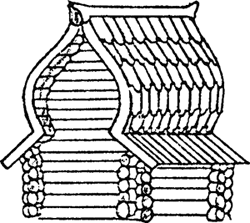 In early Russian architecture, a wooden roof whose peak has the shape of a horizontal cylinder with the upper side surface extending into a pointed ridge.
McGraw-Hill Dictionary of Architecture and Construction. Copyright © 2003 by McGraw-Hill Companies, Inc.