Breuer, Marcel Lajos
Also found in:
Dictionary
,
Thesaurus
.
Breuer, Marcel Lajos
(broi`ər)

, 1902–81, American architect and furniture designer, b. Hungary. During the 1920s he was associated, both as student and as teacher, with the BauhausBauhaus
, artists' collective and school of art and architecture in Germany (1919–33). The Bauhaus revolutionized art training by combining the teaching of classic arts with the study of crafts.
.....

Click the link for more information.

in Germany. In 1925, Breuer won renown with his design of the first tubular steel and laminated plywood chair. He built only one private house (Wiesbaden, 1932) before leaving Germany to work in Switzerland and England. Breuer became associate professor of architecture at Harvard in 1937, and from 1937 to 1941 was a partner of Walter GropiusGropius, Walter
, 1883–1969, German-American architect, one of the leaders of modern functional architecture. In Germany his Fagus factory buildings (1910–11) at Alfeld, with their glass curtain walls, metal spandrels, and discerning use of purely industrial
.....

Click the link for more information.

, with whom he designed several outstanding houses. He developed exterior sun shielding and made bold sculptural use of poured concrete. With NerviNervi, Pier Luigi
, 1891–1979, Italian architectural engineer. Nervi is considered one of the foremost European architectural designers of the 20th cent. His first large work, the Giovanni Berta stadium at Florence (1930–32), won world acclaim for the daring and
.....

Click the link for more information.

and B. H. Zehrfuss he planned the Paris headquarters of the UN Educational, Scientific, and Cultural Organization (1958). Among Breuer's major later designs are St. John's Abbey, Collegeville, Minn. (1953–61); the U.S. embassy at The Hague (1958); the former Whitney Museum of American Art, New York City (1966), now leased to the Metropolitan Museum of Art; and the New York Univ. Technology I and II buildings (1969), New York City.
Bibliography
See his Sun and Shadow, ed. by P. Blake (1955), Buildings and Projects, ed. by C. Jones (1962), and New Buildings and Projects, ed. by T. Papachristou (1970).
The Columbia Electronic Encyclopedia™ Copyright © 2013, Columbia University Press. Licensed from Columbia University Press. All rights reserved.
www.cc.columbia.edu/cu/cup/
Breuer, Marcel Lajos
(1902–1981)

An Modernist, born in Hungary, who taught at the Bauhaus at Weimar, Germany, and invented a series of furniture designs using bent steel tubes finished in chrome. Typical of his style is the Armstrong Rubber Company office building (illus.), New Haven, CT, the HUD building (illus.), Washington, D.C. His last work was the Whitney Museum of Art (illus.), in New York City.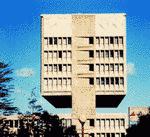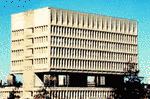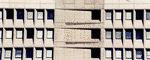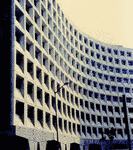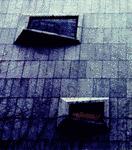 Illustrated Dictionary of Architecture Copyright © 2012, 2002, 1998 by The McGraw-Hill Companies, Inc. All rights reserved
The following article is from The Great Soviet Encyclopedia (1979). It might be outdated or ideologically biased.
Breuer, Marcel Lajos
Born May 21, 1902, in Pecs, Hungary. American architect.
Breuer studied and worked in 1920-28 in Germany at the Bauhaus (mainly as a furniture designer), and in 1925 he invented tubular steel furniture. In 1928-31 he lived in Berlin, in 1935-37 in London, and after 1937 in the USA (where up to 1941 he collaborated with W. Gropius). As one of the leaders of functionalism he strove for a functional sharpness of composition, clarity of building structures, and compactness of planes and volumes. Breuer's buildings include the Bijenkorf department store in Rotterdam (1956-57), an enclosed area with widely spaced slit-shaped windows, a controlled climate, and artificial illumination; the UNESCO building in Paris (1953-57, jointly with B. Zehrfuss and P. L. Nervi); a gymnasium in Litchfield, Conn. (1954-56); and the Whitney Museum of American Art in New York (1966). These buildings demonstrate the achievement and possibilities of modern architecture and are notable for the plastic expressiveness and skillful use of the structural and artistic possibilities of concrete.
REFERENCE
Breuer, Marcel. Buildings and Projects, 1921-1961. London, 1962.

The Great Soviet Encyclopedia, 3rd Edition (1970-1979). © 2010 The Gale Group, Inc. All rights reserved.