hotel
(redirected from Budget hotel)
Also found in:
Dictionary
,
Thesaurus
,
Legal
,
Financial
.
hotel
hotel
[Fr., from O.Fr. (origin of Eng.
hostel
), from Latin (origin of Eng.
hospital
),=guest place], name applied since the late 17th cent. to an establishment supplying both food and lodging to the public (see
inn
). In common law of England and America, the hotelkeeper is a public servant and must receive all proper persons. The first American hotels, successors to the early inns, differed from their European prototypes by charging a fixed fee for food and lodging (American plan). For many years $1.00 per day was the accepted price. Fraunces Tavern (1762; see under
Fraunces, Samuel
) and the City Hotel (1793) were fashionable resorts of early New York City. The Tremont House, in Boston (1829), for years considered the most imposing hotel in the United States, was rivaled by the Astor House, built in New York in 1836. The modern hotel in America dates from the early days of railroad travel, when the modest hostelry, prepared to entertain small groups of occasional guests, was forced to become a more commodious and efficient institution to accommodate the great number of traveling salespeople. Technical progress in the late 19th cent. permitted the construction of large hotels with safeguards against fire. Hotels may be classed as transient, residential, or resort hotels. Semicommercial hotels with club features are maintained by organizations such as the YMCA (see
Young Men's Christian Association
). With the growth of suburban centers and the increase of travel by automobile, a form of transient hotel, called a
motel
, became popular. In the 1990s, the "extended-stay hotel"—for guests who need a room for at least five nights—was developed, especially for business travelers who preferred more apartmentlike accommodations for longer stays. By 1998 extended-stay hotels represented 40% of U.S. lodging rooms planned for construction.
Bibliography
See H. Weisskamp, Hotels (1968); R. Brotherton, ed., The Handbook of Contemporary Hospitality Management Research (1999); A. K. Sandoval-Strausz, Hotel: An American History (2007).
The Columbia Electronic Encyclopedia™ Copyright © 2022, Columbia University Press. Licensed from Columbia University Press. All rights reserved.
Hotel
A building with rooms or suites for rent by the day; typically includes public facilities for dining.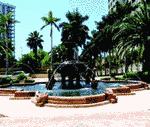 Illustrated Dictionary of Architecture Copyright © 2012, 2002, 1998 by The McGraw-Hill Companies, Inc. All rights reserved
The following article is from The Great Soviet Encyclopedia (1979). It might be outdated or ideologically biased.
Hotel
a building for temporary stays by people visiting a given area. Hotels for those traveling by car are called motels.
Hotels first appeared in the ancient world. They were located in large trading centers (for instance, gostinye dvory in Russia), in places of religious pilgrimage, and near main roads (for instance, caravansaries in the East). With the development of capitalism, when business trips significantly increased the clientele of hotels, the modern urban hotel came into being, with rooms of various kinds situated along corridors, with general halls, restaurants, and other facilities. Many of the newest large hotels are developed social complexes, combining living units with garages for guests' cars, large halls for concerts and meetings, exhibition facilities, and pools. (These are sometimes located in separate buildings of considerable size.)
There were more than 5,800 hotels in the USSR in 1970. More than 80 percent were under the management of the soviets of workers' deputies, and the rest were managed by ministries, departments, and the Board of Foreign Tourism. As the material and cultural level of the population rises, the demand for hotels increases, especially in the capitals of the Soviet republics, in resort cities, and near memorial sites. Since the late I950's, many large comfortable hotels have been built, with modern sanitary equipment and high-quality furniture and decoration. Moscow has the Rossiia, capacity. 6,000 (architects, D. N. Chechulin, P. P. Shteller, and others) and Inturist, capacity, 1,000 (architects V. L. Vo-skrenskii, Iu. N. Sheverdiaev. and others). Leningrad has the Leningrad, capacity, 1,312 (architects, S. B. Speranskii and V. E. Struzman; builder, M. N. Shekher). Other modern hotels are the Kazakhstan, capacity, 550 (architects, E. K. Diatlov and Kim Do Sen; builder, Iu. M. Skrinskii) in Alma-Ata, the Iveriia, capacity, 510 (architects, O. D. Kalandarishvili and I. S. Tskhomelidze; engineer, D. Kad-zhaia). in Tbilisi, and the lubileinaia, capacity, 408 (architect, G. M. Benediktov) in Minsk. Large hotels were under construction in Moscow, Leningrad, Kiev, Sochi, and many other cities in 1971.
REFERENCES
Kiselevich. L. N., V. A. Kossakovskii, and O. I. Rzhekhina. Gostinitsy za rubezhom. Moscow, 1961.
Koch, A. Hotelbauten: Motels und Ferienhaüser. Stuttgart [1961].
Zhukov. G. S. Ekspluatatsiia gostinits. Moscow, 1967.

I. T. IVANOV and IU. K. MILONOV
The Great Soviet Encyclopedia, 3rd Edition (1970-1979). © 2010 The Gale Group, Inc. All rights reserved.
What does it mean when you dream about a hotel?
A place of temporary housing, a hotel may indicate the need for a new state of mind or a condition that requires a short move away from home and familiar conditions.
The Dream Encyclopedia, Second Edition © 2009 Visible Ink Press®. All rights reserved.
hotel
A building in which lodging and other services, often board, are provided primarily to transients and, less often, to permanent residents.
McGraw-Hill Dictionary of Architecture and Construction. Copyright © 2003 by McGraw-Hill Companies, Inc.
hotel
a commercially run establishment providing lodging and usually meals for guests, and often containing a public bar
Collins Discovery Encyclopedia, 1st edition © HarperCollins Publishers 2005
Hotel
(dreams)

All dwelling places generally represent the dreamer's psychological, emotional, or spiritual condition. The dream may reflect a current reality, issue, or dilemma and attempt to bring the dreamer into greater self-awareness. Because a hotel is a transitory dwelling, it suggests a time away from one's responsibilities or routine. As a dream symbol it could reflect a need for rest and reflection. Depending on the details of the dream, specific information can be ascertained. For example, if the hotel is luxurious it suggests prosperity and positive decision-making. However, if the hotel is rundown and inadequate, it may reflect a time of uneasiness and depravation. Whether the hotel in your dream represented a retreat or escapism is for you to determine by examining your current daily reality. Finally, a hotel may refer to a temporary stage in life or be a form of compensation with which the dreamer eases the anxiety and stress experienced during the day.

Bedside Dream Dictionary by Silvana Amar Copyright © 2007 by Skyhorse Publishing, Inc.