bulldozer
(redirected from Bulldozers)
Also found in:
Dictionary
,
Thesaurus
.
bulldozer
a powerful tractor fitted with caterpillar tracks and a blade at the front, used for moving earth, rocks, etc.
Collins Discovery Encyclopedia, 1st edition © HarperCollins Publishers 2005
The following article is from The Great Soviet Encyclopedia (1979). It might be outdated or ideologically biased.
Bulldozer
A self-propelled earth-moving machine consisting of a caterpillar or wheeled tractor or similar machine with an attached operating member—a curved blade (plate) located outside the base of the machine's undercarriage. It is utilized for layered digging, leveling, and shifting (for distances of 60-150 m) of earth, minerals, road-construction materials, and other materials for building and repairing roads, canals, and hydraulic-engineering and similar works.
There are several types of bulldozers: those with a fixed blade mounted perpendicular to the longitudinal axis of the basic machine; those with a swiveling blade that can be set at an angle in the horizontal plane on either side of the machine's longitudinal axis or at right angles to it; and those of the universal type, with a blade having two hinged, articulated halves that can be set in the horizontal plane at various angles to the machine's longitudinal axis or perpendicular to it (track-layer). The blades of all types are equipped with mechanisms with hydraulic, cable, or electromechanical drives for raising and lowering, swiveling in a plane, tilting in a transverse plane, and inclining forward or backward in the direction of the vehicle's motion. Bulldozers are supplied with interchangeable equipment (scarifier tines, graders, spreaders, stub-wings, and so on) that broaden their usefulness and increase their efficiency for specific jobs.
(2) A bending press for hot or cold machine bending in dies of parts (such as clamps, brackets, and angles) from blanks having various cross sections. The presses are two basic types: crank-operated and hydraulically operated. The bull-dozers most commonly used in forging and stamping production are of the level crank-operated type, with a force of 0.2-5 meganewtons (MN; 20-500 ton-forces) and a rate of 6-20 strokes per minute. High-speed bulldozers with a force of 0.2 MN (20 ton-forces) and a rate of 45-60 strokes per minute are used for the hot bending of blanks with small cross sections.
The Great Soviet Encyclopedia, 3rd Edition (1970-1979). © 2010 The Gale Group, Inc. All rights reserved.
bulldozer
[

′bu̇l'dōz·ər

]

(mechanical engineering)

A wheeled or crawler tractor equipped with a reinforced, curved steel plate mounted in front, perpendicular to the ground, for pushing excavated materials.

(metallurgy)

A machine for bending, forging, and punching narrow plates and bars, in which a ram is pushed along a horizontal path by a pair of cranks that are linked to two bullwheels with eccentric pins.

McGraw-Hill Dictionary of Scientific & Technical Terms, 6E, Copyright © 2003 by The McGraw-Hill Companies, Inc.
bulldozer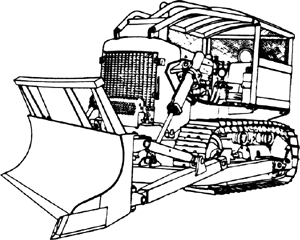 A tractor or other prime mover equipped with a blade attached by arms or brackets to its front end; used in pushing or piling earth or rock.
McGraw-Hill Dictionary of Architecture and Construction. Copyright © 2003 by McGraw-Hill Companies, Inc.