shroud
(redirected from Burial shroud)
Also found in:
Dictionary
,
Thesaurus
.
shroud
1. Nautical one of a pattern of ropes or cables used to stay a mast
2. any of a set of lines running from the canopy of a parachute to the harness
Collins Discovery Encyclopedia, 1st edition © HarperCollins Publishers 2005
shroud
[

shrau̇d

]

(engineering)

A protective covering, usually of metal plate or sheet.

(horology)

The ends of lantern clock pinions that hold the pins.

(naval architecture)

A principal member of the standing rigging consisting of hemp or wire ropes which extend from or near a masthead to a vessel's side or to the rim of the top of the mast to afford lateral support for the mast.

McGraw-Hill Dictionary of Scientific & Technical Terms, 6E, Copyright © 2003 by The McGraw-Hill Companies, Inc.
shroud
A place under ground, as a crypt of a church.
McGraw-Hill Dictionary of Architecture and Construction. Copyright © 2003 by McGraw-Hill Companies, Inc.
shroud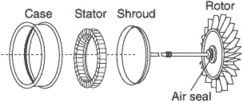 i
. A sheet-metal cover placed over an air-cooled engine to pick up and force cooling air through the cylinder fins to remove heat.
ii
. A peripheral ring called a
turbine shroud ring
, fitted to prevent the escape of gas past the tips of turbine blades in an axial-flow turbine.
iii
. A covering plate on the face of a centrifugal impeller enclosing flow passage and preventing leaks.
iv
. A circular duct surrounding the propeller or the propulsive fan.
v
. An extension of the fixed surface of an airfoil, projecting behind the hinge line of a movable surface to reduce drag.
An Illustrated Dictionary of Aviation Copyright © 2005 by The McGraw-Hill Companies, Inc. All rights reserved