Byzantine architecture
(redirected from Byzantine style)
Also found in:
Dictionary
,
Thesaurus
,
Wikipedia
.
Byzantine architecture
(300–1450)

When the seat of the Roman Empire moved to Byzantium, a new style became the official architecture of the church.Plans were based on a Greek cross, with a large cupola rising from the center and smaller ones crowning the four small arms. The style was characterized by large domes supported on pendentives, circular or horseshoe arches, elaborate columns and richness in decorative elements. Doorways were square-headed with a semicircular arch over the flat lintel. The round arch, segmented dome, extensive use of marble veneer and rich frescoes with colored glass mosaics are also characteristic of this style. The most well-known examples are the Hagia Sophia in Istanbul, and St. Marks (illus.), in Venice, Italy.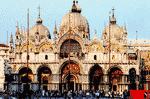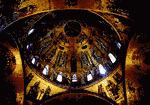 Illustrated Dictionary of Architecture Copyright © 2012, 2002, 1998 by The McGraw-Hill Companies, Inc. All rights reserved
Byzantine architecture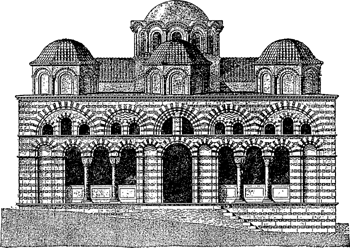 The architecture of the Byzantine or Eastern Roman Empire which developed from Early Christian and late Roman antecedents in the 4th cent., flourished principally in Greece, but spread widely and lasted throughout the Middle Ages until the fall of Constantinople to the Turks (1453). It is characterized by large pendentive-supported domes, round arches and elaborate columns, richness in decorative elements, and color. The most famous example is the Hagia Sophia in Istanbul (532–537).
McGraw-Hill Dictionary of Architecture and Construction. Copyright © 2003 by McGraw-Hill Companies, Inc.