Ce
(redirected from Cé)
Also found in:
Dictionary
,
Thesaurus
,
Medical
,
Acronyms
,
Idioms
.
Ce,
symbol for the element ceriumcerium
[from the asteroid Ceres], metallic chemical element; symbol Ce; at. no. 58; at. wt. 140.116; m.p. 799&degC;; b.p. 3,426&degC;; sp. gr. 6.77 at 25&degC;; valence +3 or +4. Cerium is a soft, malleable, ductile, iron-grey metal with hexagonal or cubic crystalline structure.
.....

Click the link for more information.

.

The Columbia Electronic Encyclopedia™ Copyright © 2013, Columbia University Press. Licensed from Columbia University Press. All rights reserved.

www.cc.columbia.edu/cu/cup/
Ce
(chemistry)
McGraw-Hill Dictionary of Scientific & Technical Terms, 6E, Copyright © 2003 by The McGraw-Hill Companies, Inc.
CE
This article is provided by FOLDOC - Free Online Dictionary of Computing (foldoc.org)
CE device
(1) (Consumer Electronics device) Audio and video equipment for the home, including CD and DVD players, stereos, TVs and home theater components. See CE quality.

(2) (Windows CE device) A handheld computer or other device that was managed by the Windows CE operating system. See Windows CE.
---
consumer electronics
A wide-ranging field of electronics for the general user that includes devices such as TVs, VCRs, radios, walkie-talkies, hi-fi stereo, home theater, handheld and software-based games, smartphones, tablets, smartwatches and Internet-connected appliances.

The implication was that people purchase consumer electronics for casual use and entertainment rather than professional use. However, each year, consumer devices become as sophisticated as yesteryear's professional gear. In addition, smartphones, tablets and smartwatches fit into both consumer and business categories.

What a Bunch of Names!
The name changes with the times. In 1924, the Radio Manufacturers Association (RMA) was founded to embrace the new wireless phenomenon. In 1950, it became the Radio-Television Manufacturers Association (RTMA), and three years later the Radio-Electronics-Television Manufacturers Association (RETMA). RETMA became the Electronic Industries Association (EIA) in 1957, and EIA's Consumer Electronics Group became the Consumer Electronics Manufacturers Association (CEMA) in 1995. CEMA became CEA (Consumer Electronics Association) in 1999, and in 2015, CEA was renamed CTA (Consumer Technology Association). See CE quality, CES and consumer.
---
customer engineer
An IBM title for systems representative. See systems representative.
---
Windows CE
(Windows Consumer Electronics) Microsoft's version of Windows for handheld devices and embedded systems that use x86, ARM, MIPS and SuperH CPUs. Introduced in 1996, Windows CE was renamed "Windows Embedded CE" as of Version 6.0 in 2006 and then renamed "Windows Embedded Compact" in 2008. Nevertheless, most people refer to "Windows CE" or "WinCE."

Windows CE uses the same Win32 programming interface (API) as regular Windows, but can run in less than 1MB of memory. It supports most of the Windows technologies such as .NET Compact Framework, MFC, COM, ActiveX and DirectX. In addition, numerous components are available to developers in source code so that they can be modified for specific platforms. See Windows XP Embedded.

MS Smartphones Were WinCE Until WinPhone 8
Microsoft's first Windows Mobile platform and its second Windows Phone platform, prior to Windows Phone 8, were also based on Windows CE. See Windows Mobile and Windows Phone.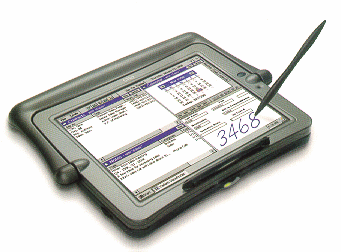 Windows CE on the Clio
The Clio was an innovative Windows CE computer. Released in 1999, it was used as a tablet or a laptop with its built-in keyboard. Developed by Vadem, Ltd., it was later acquired by The Pinax Group. (Image courtesy of The Pinax Group.)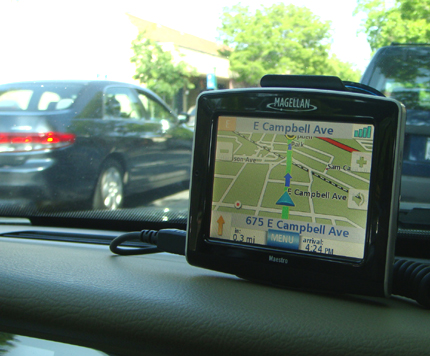 A Windows CE GPS
This Magellan navigation unit runs under Windows CE, offering many of the features of in-dash models, including text-to-speech playback of street names.
Copyright © 1981-2019 by The Computer Language Company Inc. All Rights reserved. THIS DEFINITION IS FOR PERSONAL USE ONLY. All other reproduction is strictly prohibited without permission from the publisher.