Cm
(redirected from C.M.)
Also found in:
Dictionary
,
Thesaurus
,
Medical
,
Financial
.
Cm
Cm,
symbol for the element
curium
.
The Columbia Electronic Encyclopedia™ Copyright © 2022, Columbia University Press. Licensed from Columbia University Press. All rights reserved.
cm
(mechanics)
---
Cm
(chemistry)
McGraw-Hill Dictionary of Scientific & Technical Terms, 6E, Copyright © 2003 by The McGraw-Hill Companies, Inc.
CM
Abbr. for "center matched."
---
centimeter
In the metric system, a measure of length equal to a hundredth part of a meter, or 0.3937+ in.; abbreviated cm; an inch equals 2.54 cm.
McGraw-Hill Dictionary of Architecture and Construction. Copyright © 2003 by McGraw-Hill Companies, Inc.
CM
(1)
cm
(networking)

This article is provided by FOLDOC - Free Online Dictionary of Computing (foldoc.org)
cable modem
A device used to connect one or more computers to a cable company's Internet service. The same coaxial cable coming into the house or office also provides TV and voice over IP (VoIP) service.

Compared to analog dial-up, cable Internet dramatically increased the bandwidth between the user's computer and the Internet (see broadband). In order to prevent residential customers from hosting high-traffic Web servers, the cable's upload speed is generally much slower than the download speed, and the cable company may routinely change the IP address assigned to the modem to prevent Web hosting (see DDNS).

Connect Via Ethernet or USB
Cable modems typically connect to a computer or router via Ethernet; however, some cable modems connect to one computer via USB. In addition, the cable modem is often combined with the router (see cable/DSL gateway).

A Shared Service
Cable Internet speeds vary depending on how many customers are sending and receiving data on that cable segment at the same time. For example, when kids come home from school in the afternoon, users in the neighborhood may experience slower speeds. See DOCSIS and Internet appliance.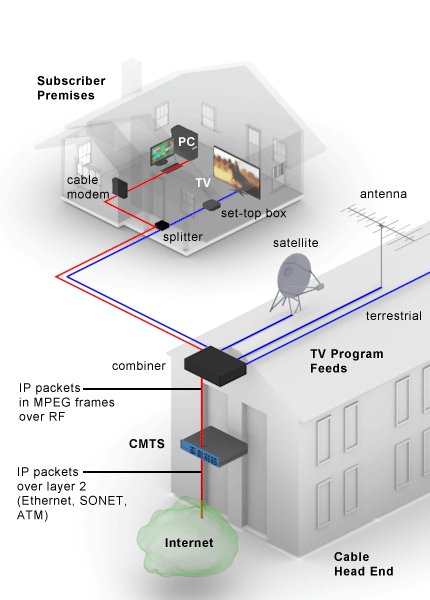 A Cable Modem System
At the cable company plant, Internet packets are combined with standard TV programming. See CMTS.
---
configuration management
(1) In a network, a system for gathering current configuration information from all nodes in a LAN.

(2) In software development, a system for keeping track of large projects. Although version control, which maintains a database of revisions, is part of the system, a full-blown software configuration management system (SCM system or CM system) automatically documents all components used to build executable programs. It is able to recreate each build as well as to recreate earlier environments in order to maintain previous versions of a product. It may also be used to prevent unauthorized access to files or to alert the appropriate users when a file has been altered.

Increasingly, parts of version control and configuration management are being added to application development systems. Examples of stand-alone configuration management systems are PVCS, CA Harvest and ClearCase. See CSCI and version control.
---
content management system
A software suite that is used to create and manage documents and websites. The term is generally associated with Web content, but systems are developed to maintain all kinds of information (see document management system).

One of the features of a comprehensive content management system (CMS) versus a basic Web authoring program is its ability to update the entire site when global changes are made, eliminating the tedium of updating each page one at a time. The CMS may allow the Web designer to manage the site from a single console, and it may also provide versioning, which keeps track of all the changes made to each Web page so they can be rolled back if necessary.

The CMS accepts third-party plug-ins that provide functions such as banner advertising, shopping carts, blogs, wikis, newsletters, opinion polls, chat rooms and forums. Over the years, a few Web publishers have custom-coded their own content management systems, but there have been myriad CMS packages available on the market offering quite a variety of different features and approaches. However, as of 2020, the most popular open source CMS platform is WordPress. Joomla! and Drupal come in a distant second and third. See WordPress, Drupal, Joomla! and OSCOM.
---
contract manufacturer
An organization that makes products under contract for other companies. It caters to the OEM market. In the computer and electronics fields, thousands of products are manufactured by contract manufacturers. These products are ordered by and branded with the OEM's name, which sells them to its customers.

Contract Manufacturers Can Be Huge
Some of the most popular products in the business are made by contract manufacturers. For example, Microsoft's Xbox game machine is made by Flextronics Corporation (www.flextronics.com), a huge company with factories around the world and nearly $15 billion in sales in 2004. Flextronics also makes cellphones for Ericsson, routers for Cisco and printers for HP. Other major contract manufacturers are Flextronics International (www.flextronics.com), Sanmina-SCI Corporation (www.sanmina-sci.com) and Celestica (www.celestica.com).

The ODM
An "original design manufacturer" (ODM) is similar to a contract manufacturer, but typically owns the intellectual property (IP) for the product itself, while the regular contract manufacturer uses its customer's designs and IP. Contract manufacturers can make hundreds or even thousands of different products, but ODMs often specialize in only a handful of categories.

EMS and CEMS
Contract manufacturers in the electronics field that not only make products, but offer assistance with the design and supply chain generally prefer to call themselves "electronics manufacturing services" (EMS) or "contract electronics manufacturing services" (CEMS). See OEM.
---
CyanogenMod
An open source custom Android operating system that was designed to offer more flexibility than Google's stock Android. Introduced in 2009, a year after Android debuted, CyanogenMod added gesture recognition, camera enhancements, custom app permissions and various other tweaks, some of which were later incorporated by Google and major smartphone companies. See Android ROM.

CyanogenMod and Cyanogen OS
CyanogenMod was the community-driven version, and by 2015, there were more than 12 million downloads of this "custom ROM." Steve Kondik, whose forum handle was Cyanogen, created the OS and was founder and CTO of Cyanogen Inc., which offered the Cyanogen OS commercial version pre-installed on phones such as the OnePlus One. In 2016, Cyanogen Inc. closed, and the open source CyanogenMod version evolved into LineageOS (www.lineageos.org).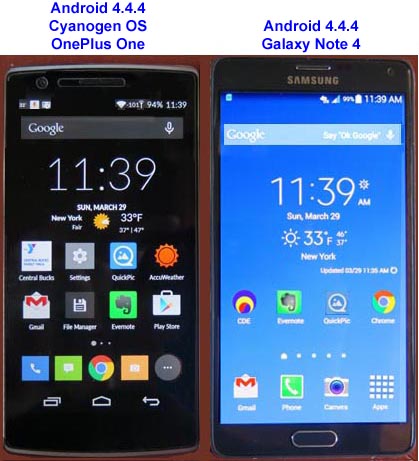 Cyanogen vs. Regular Android
Side by side, there seems little difference between the OnePlus One and the Note 4. However, Cyanogen OS was more customizable, and like Google's Nexus line, had a limited number of apps from the phone vendor.
Copyright © 1981-2019 by The Computer Language Company Inc. All Rights reserved. THIS DEFINITION IS FOR PERSONAL USE ONLY. All other reproduction is strictly prohibited without permission from the publisher.