cathode
Also found in:
Dictionary
,
Thesaurus
,
Medical
,
Financial
,
Acronyms
,
Wikipedia
.
cathode,
electrodeelectrode,
terminal through which electric current passes between metallic and nonmetallic parts of an electric circuit. In most familiar circuits current is carried by metallic conductors, but in some circuits the current passes for some distance through a nonmetallic conductor.
.....

Click the link for more information.

through which current leaves an electric device. In electrolysiselectrolysis
, passage of an electric current through a conducting solution or molten salt that is decomposed in the process. The Electrolytic Process

The electrolytic process requires that an electrolyte, an ionized solution or molten metallic salt, complete an
.....

Click the link for more information.

, it is the negative electrode in the electrolytic cell.
Cathode
(1) In an electron tube or a gas-discharge tube, the electrode that is the source of electrons that ensure the conductivity of interelectrode space in a vacuum or maintain the steadiness of the passage of an electric current through the gas. Depending on the mechanism of emission of electrons, there exist thermionic cathodes, photocathodes, and cold cathodes.
(2) The negatively charged electrode (pole) of a source of current (galvanic cell, storage battery).
(3) The electrode of an electrolytic cell, an electric arc, and other similar devices that are connected to the negative pole of a source of current.
cathode
[

′kath'ōd

]

(electricity)

The terminal at which current leaves a primary cell or storage battery; it is negative with respect to the device, and positive with respect to the external circuit.

(electronics)

The primary source of electrons in an electron tube; in directly heated tubes the filament is the cathode, and in indirectly heated tubes a coated metal cathode surrounds a heater. Designated K. Also known as negative electrode.

The terminal of a semiconductor diode that is negative with respect to the other terminal when the diode is biased in the forward direction.

(physical chemistry)

The electrode at which reduction takes place in an electrochemical cell, that is, a cell through which electrons are being forced.
cathode
1. the negative electrode in an electrolytic cell; the electrode by which electrons enter a device from an external circuit
2. the negatively charged electron source in an electronic valve
3. the positive terminal of a primary cell
cathode
A terminal on an electrical device that has a negative charge. Current flows from the cathode to the positively charged anode; however, the electrons actually flow from the anode to the cathode. Derived from Greek, cathode and anode mean "down" and "up" respectively. See electrode, cold cathode and OLED layers.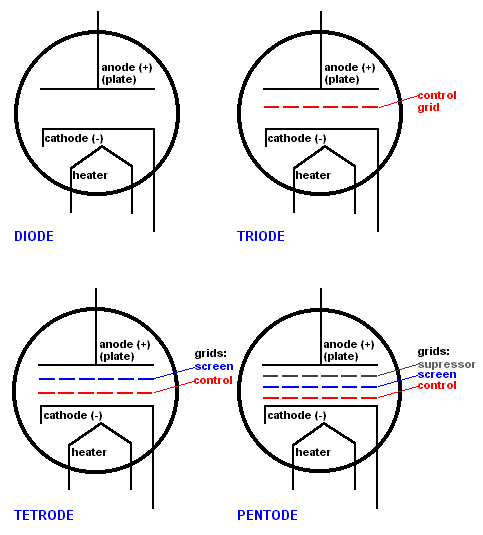 Cathode Emitters
In vacuum tubes, the cathodes are the emitters, and the anodes are the collectors.