sill
(redirected from cills)
Also found in:
Dictionary
,
Thesaurus
,
Acronyms
.
sill
1. a shelf at the bottom of a window inside a room
2. a horizontal piece along the outside lower member of a window, that throws water clear of the wall below
3. the lower horizontal member of a window or door frame
4. a continuous horizontal member placed on top of a foundation wall in order to carry a timber framework
5. a flat usually horizontal mass of igneous rock, situated between two layers of older sedimentary rock, that was formed by an intrusion of magma
Sill
The horizontal exterior member at the bottom of a window or door opening which is usually sloped away from the bottom of the window for drainage of water, and overhanging the wall below.
Sill
a tabular body of intrusive rock that parallels the surrounding layered rock. Sills sometimes reach lengths up to tens of kilometers; those composed of basic and ultrabasic mag-matic rocks are especially common.
sill
[

sil

]

(building construction)

The lowest horizontal member of a framed partition or of a window or door frame.

(civil engineering)

A timber laid across the foot of a trench or a heading under the side truss.

The horizontal overflow line of a dam spillway or other weir structure.

A horizontal member on which a lift gate rests when closed.

A low concrete or masonry dam in a small stream to retard bottom erosion.

(control systems)

A type of robot articulation that has three degrees of freedom.

(geology)

Submarine ridge in relatively shallow water that separates a partly closed basin from another basin or from an adjacent sea.

A tabular igneous intrusion that is oriented parallel to the planar structure of surrounding rock.

(mining engineering)

A piece of wood laid across a drift to constitute a frame to support uprights of timber sets and to carry the track of the tramway.

The floor of a gallery or passage in a mine.
sill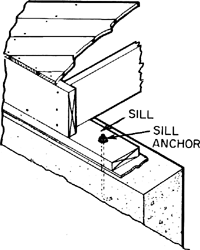 1. A horizontal timber, at the bottom of the frame of a wood structure, which rests on the foundation.
3. The horizontal bottom member of a window frame or other frame.