Callicrates
Also found in:
Dictionary
,
Wikipedia
.
Callicrates
Callicrates
(kəlĭkˈrətēz)
, 5th cent. B.C., Greek architect. In association with
Ictinus
he built (447–432 B.C.) the
Parthenon
at Athens. At Athens also he designed (c.427) the Temple of Nike.
The Columbia Electronic Encyclopedia™ Copyright © 2022, Columbia University Press. Licensed from Columbia University Press. All rights reserved.
Callicrates
(c. 500 B.C.)

Leading Athenian architect; famous for the design of the Parthenon along with Ictinus. He also designed the Temple of Nike Apteros and part of the defensive Long Walls connecting Athens to the port at Piraeus.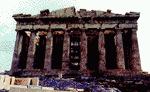 Illustrated Dictionary of Architecture Copyright © 2012, 2002, 1998 by The McGraw-Hill Companies, Inc. All rights reserved
The following article is from The Great Soviet Encyclopedia (1979). It might be outdated or ideologically biased.
Callicrates
(Kallikrátēs), Greek architect of the mid-fifth century B.C.
Callicrates worked in Athens. He participated in the buildingof the so-called long walls and in the fortification of the easternpart of the Acropolis walls. He also built the Parthenon(447_ 438 B.C., together with Ictinus) and the small Ionic-styleTemple of Athena Nike (planned 449 B.C., finished c. 420 B.C.)on the Acropolis.
The Great Soviet Encyclopedia, 3rd Edition (1970-1979). © 2010 The Gale Group, Inc. All rights reserved.
Callicrates
5th century
bc
, Greek architect: with Ictinus, designed the Parthenon
Collins Discovery Encyclopedia, 1st edition © HarperCollins Publishers 2005