canard
(redirected from Canards)
Also found in:
Dictionary
,
Thesaurus
.
canard
an aircraft in which the tailplane is mounted in front of the wing
canard
[

kə′närd

]

(aerospace engineering)

An aerodynamic vehicle in which horizontal surfaces used for trim and control are forward of the wing or main lifting surface.

The horizontal trim and control surfaces in such an arrangement.
canard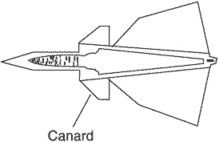 A horizontal stabilizing and control surface or fore-plane located forward of the wing. It can act as a trimmer or like a conventional tailplane. A canard may be fixed, movable, or have a variable geometry.