cantilever
(redirected from Cantaliver)
Also found in:
Dictionary
,
Thesaurus
,
Financial
.
cantilever
cantilever
(kănˈtəlēvər)
, beam supported rigidly at one end to carry a load along the free arm or at the free end. A slanting beam fixed at the base is often used to support the free end, as in a common bracket. The springboard is a simple cantilever beam, and the cantilever design is often used for canopies, balconies, sidewalks outside the trusses of bridges, and large cranes such as those used in shipyards. By the use of cantilever trusses, obstructing columns are eliminated in theaters. The cantilever principle is one of the methods that may be used in constructing a
bridge
.
The Columbia Electronic Encyclopedia™ Copyright © 2022, Columbia University Press. Licensed from Columbia University Press. All rights reserved.
Cantilever
A structural member or any other element projecting beyond its supporting wall or column and weighted at one end to carry a proportionate weight on the projecting end.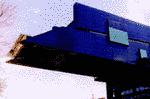 Illustrated Dictionary of Architecture Copyright © 2012, 2002, 1998 by The McGraw-Hill Companies, Inc. All rights reserved
The following article is from The Great Soviet Encyclopedia (1979). It might be outdated or ideologically biased.
Cantilever
a structure (for example, a girder or a truss) with one end that is stably secured and another that is free; it can also be a part of a structure extending beyond the support. A cantilever is generally used when the installation of additional supports is impossible or inadvisable (for example, the supporting structure of a balcony or ledge). An outrigger is a form of cantilever. A distinctive feature of a cantilever is that determination of load stresses does not require preliminary calculation of bearing pressures but examination of the conditions of equilibrium of the free part of the cantilever.
---
Cantilever
an overhanging support element or structure used to attach parts of machines or structures to a vertical wall or column. Structurally, cantilevers are made as an independent part with a diagonal strut or as a considerably thickened portion of the basic element.
Cantilevers are usually used for the installation of bearings, individual machine assemblies, and equipment on transmission towers and supports. In architecture, which uses ordered elements, a cantilever, or corbel, is usually a projection from within a wall, which is often shaped (with decorative scrolls, volutes, or other ornamentations). The cantilever is used for supporting balconies or greatly protruding cornices.
The Great Soviet Encyclopedia, 3rd Edition (1970-1979). © 2010 The Gale Group, Inc. All rights reserved.
cantilever
[

′kant·əl'ē·vər

]

(engineering)

A beam or member securely fixed at one end and hanging free at the other end.

(engineering)

In particular, in an atomic force microscope a very small beam that has a tip attached to its free end; the deflection of the beam is used to measure the force acting on the tip.

McGraw-Hill Dictionary of Scientific & Technical Terms, 6E, Copyright © 2003 by The McGraw-Hill Companies, Inc.
Cantilever
A linear structural member supported both transversely and rotationally at one end only; the other end of the member is free to deflect and rotate. Cantilevers are common throughout nature and engineered structures; examples are a bird's wing, an airplane wing, a roof overhang, and a balcony. See Wing
A horizontal cantilever must be counterbalanced at its one support against rotation. This requirement is simply achieved in the design of a playground seesaw, with its double-balanced cantilever. This principle of counterbalancing the cantilever is part of the basic design of a crane, such as a tower crane (see illustration). More commonly, horizontal cantilevers are resisted by being continuous with a backup span that is supported at both ends. This design is common for cantilever bridges; all swing bridges or drawbridges are cantilevers. See Bridge
Vertical cantilevers primarily resist lateral wind loads and horizontal loads created by earthquakes. Common vertical cantilevers are chimneys, stacks, masts, flagpoles, lampposts, and railings or fences. All skyscrapers are vertical cantilevers. One common system to provide the strength to resist lateral loads acting on the skyscraper is the use of a truss (known as bracing). See Buildings, Shear, Truss
Some of the largest cantilevers are used in the roofs of airplane hangars. It has become common practice to include cantilevers in the design of theaters and stadiums, where an unobstructed view is desired; balconies and tiers are supported in the back and cantilevered out toward the stage or playing field so that the audience has column-free viewing. See Beam, Roof construction
McGraw-Hill Concise Encyclopedia of Engineering. © 2002 by The McGraw-Hill Companies, Inc.
cantilever
1. A beam, girder, truss, or structural member or surface that projects horizontally beyond its vertical support, such as a wall or column.
2. A projecting bracket used for carrying the cornice or extended eaves of a building.
McGraw-Hill Dictionary of Architecture and Construction. Copyright © 2003 by McGraw-Hill Companies, Inc.
cantilever

A structure having sufficient internal stiffness to resist a tendency to bend under its own load when supported at one end only. Modern aircraft wings are
cantilever structures, and the term is also applied to unbraced undercarriages.
An Illustrated Dictionary of Aviation Copyright © 2005 by The McGraw-Hill Companies, Inc. All rights reserved
cantilever
1.
a. a beam, girder, or structural framework that is fixed at one end and is free at the other
b. (as modifier): a cantilever wing
2. a wing or tailplane of an aircraft that has no external bracing or support
3. a part of a beam or a structure projecting outwards beyond its support
Collins Discovery Encyclopedia, 1st edition © HarperCollins Publishers 2005