Canton
Also found in:
Dictionary
,
Thesaurus
,
Wikipedia
.
Canton:
see GuangzhouGuangzhou
or Canton
, city (1994 est. pop. 3,113,800), capital of Guangdong prov., S China, a major deepwater port on the Pearl River delta. Economy
.....

Click the link for more information.

, China.
---
Canton.
1 City (1990 pop. 13,922), Fulton co., W central Ill., in the corn belt; inc. 1849. It is a trade and industrial center for a coal and farm area. 2 Town (1990 pop. 18,530), Norfolk co., E Mass., a suburb of Boston; settled 1630, inc. 1797. Rubber goods, textiles, plastics, and paper and electronics products are manufactured, and there is a state hospital for the handicapped. Paul Revere operated a copper-rolling mill here. 3 City (1990 pop. 84,161), seat of Stark co., NE Ohio, on Nimishillen Creek; inc. 1822. In an iron- and steel-producing area, it makes roller bearings, automated teller machines, office equipment, water softeners, and vaults. In the city are Malone Univ. and the Professional Football Hall of Fame. Walsh Univ. is in suburban North Canton, which manufactures vacuum cleaners. The McKinley State Memorial contains the grave of William McKinleyMcKinley, William,
1843–1901, 25th president of the United States (1897–1901), b. Niles, Ohio. He was educated at Poland (Ohio) Seminary and Allegheny College. After service in the Union army in the Civil War, he returned to Ohio and became a lawyer at Canton.
.....

Click the link for more information.

.
---
Canton,
river, China: see PearlPearl,
Chin. Zhujiang, river, 110 mi (177 km) long, S Guangdong prov., S China. Formed at Guangzhou by the confluence of the Xi and Bei rivers, it flows E then S past Guangzhou and Huangpu island to form a large estuary between Hong Kong and Macau.
.....

Click the link for more information.

.

The Columbia Electronic Encyclopedia™ Copyright © 2013, Columbia University Press. Licensed from Columbia University Press. All rights reserved.

www.cc.columbia.edu/cu/cup/
The following article is from The Great Soviet Encyclopedia (1979). It might be outdated or ideologically biased.
Canton
(or Kuangchou), a city and port in southern China, 110 km from the shore of the South China Sea, in the delta of the Pearl River, a left tributary of the delta of the Si River. Administrative center of Kwangtung Province. Population, 1,840,000 (1957), mostly Chinese (Han), with small groups of national minorities (Huei and Manchus).
Canton is the most important economic center of southern China. It is one of the country's largest transportation and industrial centers. It has served for a long time as an important foreign-trade port. (In 1842 it was declared open to foreign trade.) Canton is third in the country in freight turnover. It is a railroad junction, and it has an international airport. The dominant industries are textiles (jute, ramie, cotton, and silk), sugar, fruit canning, and pulp and paper. There are ferrous-metal, machine-building (heavy machine-tool building, shipbuilding, electrical-machine building, and production of equipment for the textile and food industries), and chemical (fertilizers, toxic chemicals, and detergents) enterprises. Building materials (cement, bricks, and tiles) are also produced. Domestic handicrafts are important exports. On the outskirts of Canton there is tropical farming (vegetable and fruit growing). Fishing and fish culture are also widespread.
Canton has several institutions of higher education including a university founded in 1924 by Sun Yat-sen, which today bears his name, research institutions, libraries, museums, and a botanical garden.
Canton is situated on both banks of the Pearl River, but its principal sections (Chu-chiang lu, Tun-shan, Hsi-ts'un, Hsi-kuan, and Shameen) are on the left bank; only the Honan section is on the right bank. Port operations take place on the southeastern outskirts of the city at the port of Whampoa. Industrial enterprises are concentrated in the western sections of the city (Hsi-ts'un and Hsi-kuan).
In every section of Canton, broad thoroughfares adjoin narrow, medieval little lanes, and multistory European-type buildings stand alongside clay and bamboo dwellings. There is the temple of Kuang-hsiaoussu with an iron pagoda (963). The Sun Yat-sen Memorial Hall, a monument to the heroes of revolutionary battles, and a complex of sports facilities on the island of Erhshat'ou were all built in the 1950's. Canton is a center of arts and crafts (painted and champlevé enamel, lacquer objects, ivory carvings, fans, and umbrellas).
Canton arose in approximately the third century B.C. In the Middle Ages it was a large trading port, and in the 18th century it became China's only port for limited trade by foreigners. During the first Opium War (in Russian, Anglo-Chinese War of 1840–42) it was a center of mass resistance to the English colonialists. Under the Treaty of Nanking of 1842, Canton was one of five ports to be opened to foreign trade. After the second Opium War (Anglo-French-Chinese War of 1856–60), a foreign (Anglo-French) concession arose in Canton on Shameen Island. In the 1890's the bourgeois-democratic revolutionary movement began. Sun Yat-sen first became active here, and his organization, Hsing-chung-hui, undertook an armed revolt against the government in October 1895. On the eve of the Hsin-hai Revolution, two revolts flared in Canton under the leadership of the T'ung-meng-hui party (February 1910 and April 1911). In 1920 one of the first Communist circles in China sprang up in Canton; from that time on Canton became a large center of the workers' and trade union movement. From 1923 to 1926, Canton was a center of China's national revolutionary forces. Located there were the national revolutionary government, the command of the National Revolutionary Army, and the Whampoa Military Academy. After Chiang Kai-shek's treachery and the counterrevolutionary coup in Canton on Apr. 15, 1927, the Canton uprising of 1927 occurred in December. From 1938 to 1945, Canton was occupied by Japanese troops. It was cleared of the Kuomintang by the People's Liberation Army on Oct. 14, 1949.
REFERENCE
Nikitin, N. Kanton. Moscow, 1952.

---
Canton
a city in the northeastern United States, in the state of Ohio. Population, 110, 000 (1970; with suburban population, 372, 000). Railroad junction. In 1969 approximately 50 percent of the economically active population was engaged in industry. Canton is one of the leading centers for the production of electric steel and roller bearings in the United States. Other manufactures include industrial equipment, engines, electrical appliances, rubber and plastic products, and building materials. Coal is mined near Canton.
---
Canton
(1) In Switzerland, the name for federal territorial units. Each canton has its own constitution and legislative and executive organs. Each canton is represented by two deputies in the upper chamber of the federal parliament.
(2) The name for administrative territorial units in Belgium and France. Cantons in France are also electoral districts for the general-council elections of a department.
The Great Soviet Encyclopedia, 3rd Edition (1970-1979). © 2010 The Gale Group, Inc. All rights reserved.
canton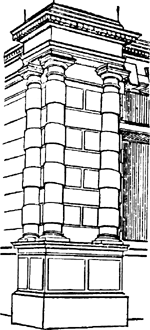 A corner of a building decorated with a projecting masonry course, a pilaster, or similar feature.
McGraw-Hill Dictionary of Architecture and Construction. Copyright © 2003 by McGraw-Hill Companies, Inc.
canton
1. any of the 23 political divisions of Switzerland
2. a subdivision of a French arrondissement
---
Canton
1. a port in SE China, capital of Guangdong province, on the Zhu Jiang (Pearl River): the first Chinese port open to European trade. Pop.: 3 881 000 (2005 est.)
2. a city in the US, in NE Ohio. Pop.: 80 806 (2000)
Collins Discovery Encyclopedia, 1st edition © HarperCollins Publishers 2005