elbow
(redirected from Carrying angle)
Also found in:
Dictionary
,
Thesaurus
,
Medical
.
elbow
1. the joint between the upper arm and the forearm, formed by the junction of the radius and ulna with the humerus
2. the corresponding joint or bone of birds or mammals
Elbow
Sharp corner in a pipe or conduit, as opposed to a bend, which has a larger radius of curvature.
elbow
[

′el'bō

]

(anatomy)

The arm joint formed at the junction of the humerus, radius, and ulna.

(design engineering)

A fitting that connects two pipes at an angle, often of 90°.

A sharp corner in a pipe.

(electromagnetism)

In a waveguide, a bend of comparatively short radius, normally 90°, and sometimes for acute angles down to 15°.

(geography)

A sharp change in direction of a coast line, channel, bank, or so on.
elbow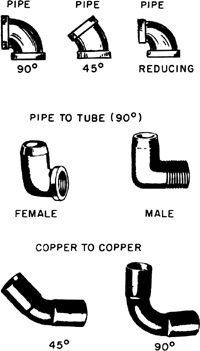 1.
A pipe, sheet metal, or conduit fitting having a bend, usually 90°; a 90° elbow is also called an
ell
.
Elbow
ignorant, blundering constable. [Br. Lit.: Measure for Measure]