cascade
(redirected from Cascader)
Also found in:
Dictionary
,
Thesaurus
,
Medical
.
cascade
1. a waterfall or series of waterfalls over rocks
2.
a. a consecutive sequence of chemical or physical processes
b. (as modifier): cascade liquefaction
3.
a. a series of stages in the processing chain of an electrical signal where each operates the next in turn
b. (as modifier): a cascade amplifier
4. the cumulative process responsible for the formation of an electrical discharge, cosmic-ray shower, or Geiger counter avalanche in a gas
5. the sequence of spontaneous decays by an excited atom or ion
Collins Discovery Encyclopedia, 1st edition © HarperCollins Publishers 2005
cascade
See cosmic rays.

Collins Dictionary of Astronomy © Market House Books Ltd, 2006
Cascade
An artificial waterfall that breaks the water as it flows over stone steps, usually found in a garden setting.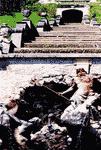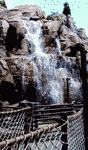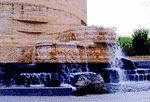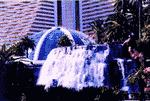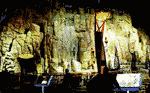 Illustrated Dictionary of Architecture Copyright © 2012, 2002, 1998 by The McGraw-Hill Companies, Inc. All rights reserved
The following article is from The Great Soviet Encyclopedia (1979). It might be outdated or ideologically biased.
Cascade
in landscaping, a natural or artificial waterfall descending over terraced steps. In park architecture cascades are created by building at various levels of bodies of water and of steps and terraces over which the water descends. Examples of famous cascades are those in Italy, in the Villa d'Este in Tivoli (1550–72, architect P. Ligorio) and the Villa Aldobrandini in Frascati (1598–1604, architects G. della Porta and C. Maderna), as well as those in the park in Petrodvorets.
In the figurative sense a cascade is a rapid irrepressible flowof something—for example, words or sounds.
The Great Soviet Encyclopedia, 3rd Edition (1970-1979). © 2010 The Gale Group, Inc. All rights reserved.
cascade
[

ka′skād

]

(computer science)

A series of actions that take place in the course of data processing, each triggered by the previous action in the series.

(electricity)

An electric-power circuit arrangement in which circuit breakers of reduced interrupting ratings are used in the branches, the circuit breakers being assisted in their protection function by other circuit breakers which operate almost instantaneously. Also known as backup arrangement.

(electronics)

(engineering)

An arrangement of separation devices, such as isotope separators, connected in series so that they multiply the effect of each individual device.

(geology)

A landform structure formed by gravity collapse, consisting of a bed that buckles into a series of folds as it slides down the flanks of an anticline.

(hydrology)

A small waterfall or series of falls descending over rocks.

(cell and molecular biology)

A molecular system that is capable of self-propagation or amplification.

(physics)

The emission of a series of photons by a quantum system, such as an atomic nucleus or a laser, in an excited state, accompanying transitions of the system to successively lower excited states, until the system reaches the ground state.

McGraw-Hill Dictionary of Scientific & Technical Terms, 6E, Copyright © 2003 by The McGraw-Hill Companies, Inc.
cascade
(compiler)

A huge volume of spurious error-messages output by a

compiler

with poor error recovery. Too frequently, one trivial

syntax

error (such as a missing ")" or "}") throws the

parser

out of synch so that much of the remaining program text, whether correct or not, is interpreted as garbaged or ill-formed.
cascade
(messaging)

A chain of

Usenet

followups, each adding some trivial variation or riposte to the text of the previous one, all of which is reproduced in the new message; an

include war

in which the object is to create a sort of communal graffito.
cascade
(networking)

A collection of interconneced networking devices, typically

hubs

, that allows those devices to act together as a

logical repeater

.

This article is provided by FOLDOC - Free Online Dictionary of Computing (foldoc.org)
cascade
A connected series of devices or images. It often implies that the second and subsequent device takes over after the previous one is used up. For example, cascading tapes in a dual-tape backup system means the second tape is written after the first one is full. In a PC, a second IRQ chip is cascaded to the first, doubling the number of interrupts.

Copyright © 1981-2019 by The Computer Language Company Inc. All Rights reserved. THIS DEFINITION IS FOR PERSONAL USE ONLY. All other reproduction is strictly prohibited without permission from the publisher.