Cast-iron lacework
Cast-iron lacework
A panel of ironwork employing an intricate ornamental design that is formed by a mass-produced casting process.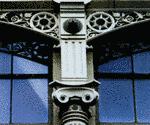 Illustrated Dictionary of Architecture Copyright © 2012, 2002, 1998 by The McGraw-Hill Companies, Inc. All rights reserved
cast-iron lacework
Mass-produced decorative ironwork of intricate design, formed by the casting process and therefore relatively inexpensive compared with wrought-iron work.
McGraw-Hill Dictionary of Architecture and Construction. Copyright © 2003 by McGraw-Hill Companies, Inc.