centaur
(redirected from Centauring)
Also found in:
Dictionary
,
Thesaurus
.
centaur
(sĕn`tôr)

, in Greek mythology, creature, half man and half horse. The centaurs were fathered by IxionIxion
, in Greek mythology, king of the Lapithes. Ixion murdered his father-in-law to avoid paying a price for his bride. When no one on earth would purify him, Zeus took Ixion to Olympus and purified him.
.....

Click the link for more information.

or by Centaurus, who was Ixion's son. Followers of Dionysus, they were uncouth and savage, but some, such as ChironChiron
, in Greek mythology, centaur, son of Kronos. He was a renowned sage, physician, and prophet. Among his pupils were Hercules, Achilles, Jason, and Asclepius. When Hercules accidentally wounded Chiron, the pain was so great that Chiron surrendered his immortality to
.....

Click the link for more information.

, became friends and teachers of men. Their half-brothers, the Lapiths, engaged them in a battle that was described by Ovid, depicted on the Parthenon, and sculpted by Michelangelo.

The Columbia Electronic Encyclopedia™ Copyright © 2013, Columbia University Press. Licensed from Columbia University Press. All rights reserved.

www.cc.columbia.edu/cu/cup/
centaur
see chiron.

Collins Dictionary of Astronomy © Market House Books Ltd, 2006
centaur
In classical mythology, a monster, half man and half horse; a human torso on the body of a horse.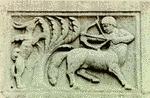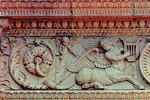 See also: Ornament

Illustrated Dictionary of Architecture Copyright © 2012, 2002, 1998 by The McGraw-Hill Companies, Inc. All rights reserved
The following article is from The Great Soviet Encyclopedia (1979). It might be outdated or ideologically biased.
Centaur
a stage used in the Atlas-C and Titan-3E American launch vehicles. The Centaur weighs about 17 tons and has two liquid-propellant rocket engines that produce a total thrust of 136 kilonewtons. Liquid hydrogen was used as a fuel for the first time in the Centaur. The first successful flight of a Centaur occurred in 1963.
The Great Soviet Encyclopedia, 3rd Edition (1970-1979). © 2010 The Gale Group, Inc. All rights reserved.
centaur
beast that is half-horse, half-man. [Gk. Myth.: Mercatante, 201–202]
Allusions—Cultural, Literary, Biblical, and Historical: A Thematic Dictionary. Copyright 2008 The Gale Group, Inc. All rights reserved.
centaur
Greek myth one of a race of creatures with the head, arms, and torso of a man, and the lower body and legs of a horse
Collins Discovery Encyclopedia, 1st edition © HarperCollins Publishers 2005
Centaur
(Centaur Technology, Inc., Austin, TX) A subsidiary of Integrated Devices Technology (IDT) founded in 1995 by Glenn Henry. In 1997, it introduced the WinChip, a Pentium MMX-class CPU chip for the low-end market that never caught on. Centaur's designs and the WinChip were acquired by Via Technologies, Inc. (www.viatech.com) in 1999. See WinChip.

Copyright © 1981-2019 by The Computer Language Company Inc. All Rights reserved. THIS DEFINITION IS FOR PERSONAL USE ONLY. All other reproduction is strictly prohibited without permission from the publisher.