Centering
Also found in:
Dictionary
,
Thesaurus
,
Medical
,
Idioms
,
Wikipedia
.
centering,
the framework of wood or of wood and steel built to support a masonry arch or vault during its construction. The centering itself must be rigidly supported, either by posts from the ground or by trusses when piers are available to receive their ends. After the centering is built, the setting of the masonry proceeds equally from the ends or sides toward the central point, where the keystone of the arch or the crowning blocks of the vault are finally wedged into position. The centering is removed after setting in the case of arches where the shape is dependent on the cement or concrete, but in other instances, e.g., where dressed stone is used with a lime mortar joint, it is better to remove the centering before setting, so that gravity will control the disposition of the stones. Removal of the centering is a delicate operation, since undue stress on one part endangers the whole structure. The Romans built vast domes and vaults of concrete with the aid of wood centerings and of integral brick ribs within the vault itself. Arches of steep rise may sometimes be built without centering. Brunelleschi is said to have dispensed with it in constructing the steep dome of the cathedral of Florence. Today inflatable plastic balloons are often used instead of centering.
Centering
A temporary wooden framework placed under vaults and arches to sustain them while under construction; the form was covered with mortar so that the undersurface of the vault showed an impression of the boards used.
Centering
an auxiliary device, usually of wood, to temporarily support casings in the construction of such curvilinear stone or reinforced-concrete structures as arches, vaults, and cupolas.
---
Centering
a machining operation that produces center holes in the end faces of stock. Centering is usually done with a center drill on a centering machine. It is most often performed on long bars, which are held by the centers of a metal-cutting machine tool, such as a lathe. The degree to which the finished surfaces will be coaxial depends on the accuracy of centering.
centering
[

′sen·tə·riŋ

]

(civil engineering)

A curved, temporary support for an arch or dome during a casting or laying operations.
centering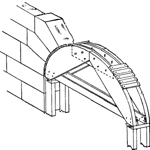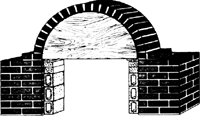 A temporary structure upon which the materials of a vault or arch are supported in position until the work becomes self-supporting.