Centrocline
The following article is from The Great Soviet Encyclopedia (1979). It might be outdated or ideologically biased.
Centrocline
a form of bedding in which the strata are inclined in such a way that the dips are directed toward some central point and the strikes describe an arc around the central point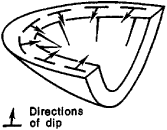 (see Figure 1). Younger rocks occur in the central parts of the arc, while older rocks are found in the lateral parts. A centrocline usually originates at the termination of a syncline where the hinge of the fold rises and the strata forming the fold are closed.
The Great Soviet Encyclopedia, 3rd Edition (1970-1979). © 2010 The Gale Group, Inc. All rights reserved.