Cerebrosides
Also found in:
Dictionary
,
Medical
.
The following article is from The Great Soviet Encyclopedia (1979). It might be outdated or ideologically biased.
Cerebrosides
any one of a number of natural organic compounds of the complex lipid group.
Cerebrosides were first discovered in the brain (hence, their name). Their molecules are formed from residues of the amino alcohol sphingosine, a fatty acid, and a carbohydrate (galactose and, less frequently, glucose). Saturated, unsaturated, and hydroxy acids with 24 carbon atoms in the chain are most frequently found as the fatty-acid components of cerebrosides.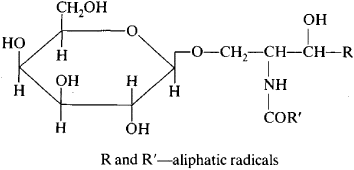 Cerebrosides are found mainly in nerve tissue, especially in the myelin sheath of nerve fibers. They also occur in the spleen, lungs, and other organs. Gaucher's disease (named for the French physician P. C. E. Gaucher, who first described the disease in 1882) is caused by dysfunctions of cerebroside metabolism, which are accompanied by the accumulation of cerebrosides in cells of the reticuloendothelial system. In persons afflicted with Gaucher's disease, 6–8 percent of the dry weight of the liver and spleen consist of cerebrosides containing a glucose residue instead of galactose.
The synthesis of cerebrosides was accomplished in 1961 from derivatives of sphingoside bases and acetobromohexose.
REFERENCES
Khimiia uglevodov. Moscow, 1967.
Horst, A. Molekuliarnaia patologiia. Moscow, 1967. (Translated from Polish.)
Khimiia biologicheski aktivnykh prirodnykh soedinenii, vol. 2. Moscow, 1976.
Shapiro, D. Chemistry of Sphingolipids. Paris, 1969.
The Great Soviet Encyclopedia, 3rd Edition (1970-1979). © 2010 The Gale Group, Inc. All rights reserved.