Chateau style
Chateau style
(1860–1898)

A style characterized by massive and irregular forms, steeply pitched hipped or gable roofs with dormers, towers, and tall elaborately decorated chimneys featuring corbeled caps. Windows are paired and divided by a mullion and transom bar. Renaissance elements such as semicircular arches or pilasters are mixed with Tudor arches, stone window tracery, and Gothic finials.
Châteauesque style, Château style, Châteauesque Revival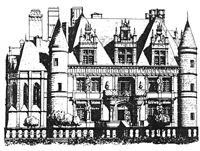 An opulent architectural style patterned after the design of monumental French chateaus of the 16th century; popular in the late 19th century and beyond. Buildings were usually characterized by a façade having masonry walls; an attic story; a single balcony or continuous balconies; prominent use of vertical elements such as pilasters; wall dormers with gables that might break the roof line; cross gables; a
belt course
; an ornately
hipped roof
either steeply pitched to a ridge and/or truncated by a horizontal surface; cast-iron
cresting
on the roof; through-the-cornice wall dormers; roof dormers with pedimented parapets, pinnacles, and spires; a cylindrical corner turret having a conical roof; tall, decorative chimneys and ornamental chimney caps; windows, frequently in pairs, divided by heavy stone mullions; oriels; semicircular bay windows; exterior door set arches; often a canopy was provided over the entry door.